August 16, 2019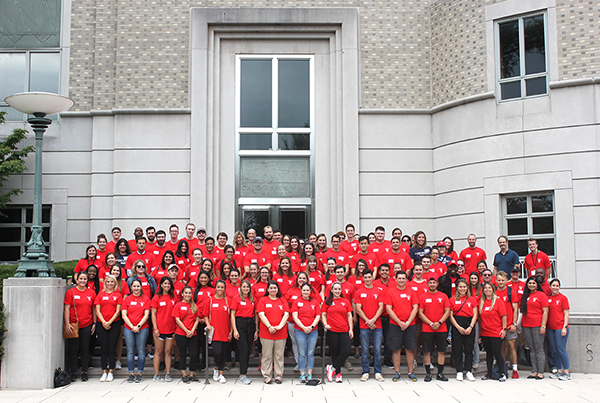 Cleaning, gardening, fixing up classrooms, or spending time with the elderly won't show up on a law school class syllabus, but those activities are nonetheless an integral part of Catholic Law's long tradition of dedication to service.
Community Service Day, held on the final day of Orientation for the incoming class on August 15, drew an enthusiastic crowd of new students, faculty, and staff who dispersed out across northeast Washington, D.C., for a day of volunteerism and fellowship.
The day is intended to emphasize the importance of service and pro bono work that is instilled at Catholic Law. Community Service Day also introduces students to their new surrounding community and gives students a chance to get to know each other before classes kick off.
There were opportunities for service at four local sites: St. Anthony Catholic School, Noyes Elementary School, Carroll Manor Nursing and Rehabilitation Center, and Ronald McDonald House Charities, all within a short drive of the Columbus School of Law.
Before they boarded busses to their respective sites, students had a chance to hear from Kiva Zytnick, the Pro Bono Coordinator for the Law School. "Thank you for being here and embracing the University's mission of service. After today, as a law student and then as a lawyer, you will have the opportunity and the responsibility to give back in a new way: pro bono," Zytnick said.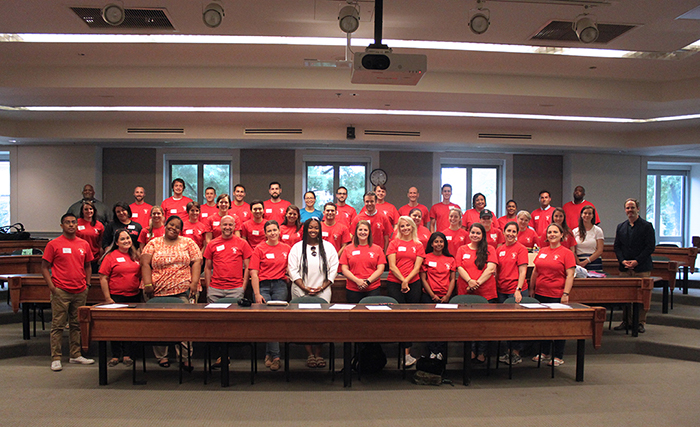 And for the fourth year in a row, evening students also had a chance to participate in Community Service Day by sorting school supplies and packing bags for local children in need. The school supplies were donated by faculty, staff, and students and will be given to children at the Fourth Annual Back to School Carnival organized by Veda Rasheed '18.
Click here to view other photos from Community Service Day on Catholic Law's Facebook page.