October 10, 2019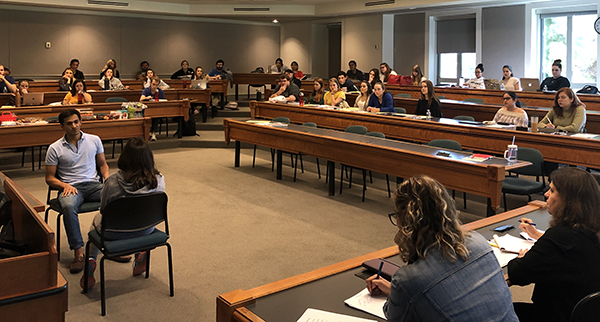 Recently, more than 50 1Ls joined Catholic Law's Pro Bono Coordinator, Kiva Zytnick, and Columbus Community Legal Services (CCLS) faculty for an engaging and informative "Mini-Training" to prepare them to participate in pro bono as law students. The mission of Catholic Law's Pro Bono Program is to help students develop the public service ethos they will need as a future lawyers by facilitating pro bono opportunities and celebrating the pro bono contributions of the Catholic Law community. The Program connects students with a variety of limited engagement pro bono opportunities that fit well into a 1L schedule and do not require any prior experience.
"Every single Catholic Law student should participate in pro bono in some way before they graduate," Kiva Zytnick said of one of the Program's major goals.
The training began with an overview of Catholic Law's Pro Bono Program. Ms. Zytnick discussed what work qualifies as pro bono, why students should do pro bono, and how they can get started now. She also covered upcoming events and opportunities to get involved in pro bono projects.
Professor Stacy Brustin, Director of the CCLS Immigrant and Refugee Advocacy Clinic, then transitioned to the important topic of Access to Justice. She emphasized the importance of pro bono service given there is no right to counsel in civil cases. She highlighted the overwhelming numbers of pro se litigants in high volume courts in D.C. such as the Probate, Landlord/Tenant, and Family courts. Brustin suggested law students can help bridge the barriers to access to justice by offering legal information, conducting intakes, and, under the supervision of licensed attorneys, providing limited advice and assistance.
Managing Director of CCLS and Director of the Low Income Taxpayer Clinic, Professor Paul Kurth, talked about the role of a law student during a legal intake and how to manage client or customer expectations. He also talked about the importance of not to promise representation, provide legal advice, and not to promise the outcome of a case.
Laila Leigh, Supervising Attorney with the Low Income Taxpayer Clinic, addressed techniques students may use to gather facts, while Nora Senyk, Supervising Attorney, covered active listening skills. Leigh modeled techniques to conduct effective intake interviews with the help of student attorneys Nico Valderrama and Maria Lino Callao, using open-ended questions to gather information and ascertain legal and non-legal concerns and clarifying detail through closed-ended questions. Leigh encouraged law students who may find themselves in pro bono placements with limited time and resources to think creatively about sources and methods of fact investigation. Students were able to practice these skills immediately with a role-play exercise.
"We know you want to help people, and we are inspired by your interest in Pro Bono work, but don't let your compassion and enthusiasm lead you to cross the ethical boundary between providing legal information (which is permitted) verses giving legal advice (which you cannot do)," said Professor Catherine Klein, CCLS Director and Director of the Families and the Law Clinic, flagging ethical issues that might arise for law students engaged in pro bono. Professor Klein highlighted the key ethical rules and walked through the difference between legal information and legal advice.
Upperclass students Nico Valderrama, Maria Lino Callao, Erica Barrera, and Michael Chavez were also on hand to demonstrate techniques and share their pro bono experiences. Much appreciation to them and to all who participated!
More information about Catholic Law's Pro Bono Program can be found here. More information about CCLS is located here. Students are always welcome to visit Kiva in OCPD (RM 163) or CCLS (RM 138-154).