April 28, 2020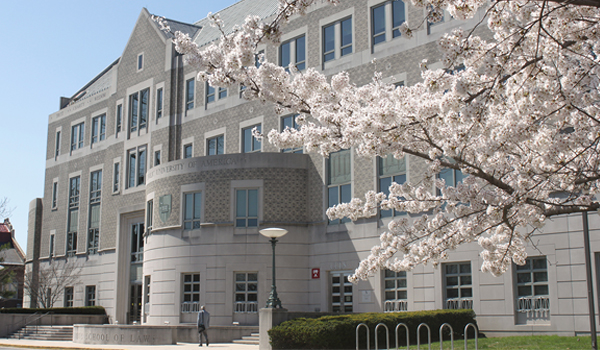 A lot has changed since mid-March when the Law School rapidly responded to the Coronavirus global pandemic by closing the campus and transitioning to online learning. What has not changed is the dedication and generosity of Catholic Law students, many who have volunteered their time and skills in a variety of pro bono projects as this unprecedented crisis has unfolded.
As they navigated a new reality and their own challenges, they still prioritized helping others in need. In the words of one student volunteer, Erhan Bedestani (1E), "For me it has been rewarding and humbling to play a small role in helping Christian Legal Aid of the District of Columbia (CLADC), assist individuals with legal problems, and also to feel like I am contributing in a small way. I am grateful for Ms. Kiva Zytnick for having recommended CLADC and I am thankful for the CUA Law Pro Bono Program and CLADC for this opportunity to serve."
Here are some examples of the extraordinary pro bono efforts of Catholic Law students, completed remotely in recent weeks:
Andrea Laprade (2L) volunteered through the Law Student COVID-19 Pro Bono Support Project and was matched with Future for Privacy Forum, a DC nonprofit focused on issues of data privacy. She helped the organization hold a virtual workshop about privacy during the pandemic and transcribed it so that an attorney could create a guide from her notes. Laprade has also been acting as a remote interpreter and has helped draft declarations for immigration hearings for Restoration Immigration Legal Aid. 
Beverly Diaz (1L) has conducted pro bono research for Juvenile Justice Advocates International regarding COVID-19 measures in Latin America. 
Carmita Hedman Sequeira (2L) has been volunteering with Restoration Immigration Legal Aid, interpreting phone calls with their Spanish-speaking clients. 
Erhan Bedestani (1E) began volunteering with Christian Legal Aid of the District of Columbia (CLADC) this February at their legal clinics, normally held at area community centers. Bedestani has continued to assist CLADC remotely as it has transitioned to conducting telephonic interviews.
Jennifer Brooker (4E) has been reviewing client files and analyzing Board of Veterans Appeals' decisions to assist attorneys working on matters with The Veterans Consortium Pro Bono Program. She has also been helping an organization create a COVID-19 Life Planning Documents Resource List-- a 50-state directory of life planning resources (wills, powers of attorney, medical directives) geared toward essential personnel working during the COVID-19 crisis.
Kelly Buckley (1L) has been assisting the Discharge Upgrade Program at The Veterans Consortium Pro Bono Program with research projects related to veteran benefits eligibility and military regulations.
Kelly Laughlin (1L) has been volunteering for the Capital Area Immigrants' Rights Coalition (CAIR) Detention Hotline. Hotline volunteers like Laughlin answer phone calls from immigrant detainees, provide updates from attorneys to detainees on their cases, and connect detainees with their attorneys.
Maribeth Guarino (3L) is a longtime volunteer with Good Samaritan Advocates, a faith-based legal aid ministry that typically provides free legal advice at local clinics. She coordinates client scheduling and intakes remotely as the clinics maneuvered into remote meetings.
Tori Breese (1L) had previously been trained as an intake volunteer at the Washington Lawyers' Committee Workers' Rights Clinic, which advises workers who need help with employment law problems. She has continued to volunteer remotely as the Clinic transitioned to a telephonic legal advice service.
Like any disaster, COVID-19 has resulted in a flood of people experiencing new or exacerbated legal problems. Legal service providers are expecting a tremendous increase in those who will need pro bono legal services when social distancing rules begin to relax. Courts and lawyers will be overwhelmed. Now is the time for law students to embrace their responsibility to use their legal skills to advance the public interest and increase access to justice. Email zytnick@law.edu for help getting involved in a pro bono project.