October 01, 2020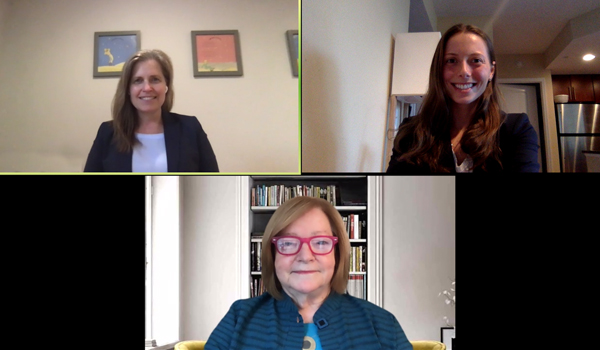 Clockwise:  Emily Totoro, Catherine Klein, and Carmita Hedman Sequeira
A lawyer always remembers her very first trial. Although they envisioned their first trial would proceed quite differently, Catholic Law students Carmita Hedman Sequeira (3L) and Emily Totoro (2L) had a very meaningful and unforgettable experience representing their client in a case before the D.C. Superior Family Court.
Both Hedman Sequeira and Totoro are court certified student attorneys in the Families and the Law Clinic (FALC) at Catholic Law. The team, supervised by faculty member Catherine Klein, recently received a favorable ruling on all issues in their client's Custody and Special Immigrant Juvenile Status (SIJS) case in D.C. Superior Court.
FALC, like the other clinics in Columbus Community Legal Services (CCLS), is designed to help students develop lawyering skills and professional values through actual experience representing clients. Students working in FALC take on cases of domestic violence, family law, and immigration law. Students have full responsibility for every aspect of their case—from interviewing clients and witnesses, drafting legal memoranda and pleadings, to preparing and arguing motions, to even conducting the trials before the Superior Court of the District of Columbia.
Hedman Sequeira and Totoro both spoke about their experiences with the case. Hedman Sequeira shared, "I am incredibly grateful for the practical experience I have received working on this case for the last year as part of the Families and the Law Clinic, including dealing with difficult service of process in a foreign country. I have learned what it means to zealously represent a client from start to finish, even when a pandemic threatened to bring everything to a halt. In March, after two live moots and just days before the scheduled in-person hearing, the court continued our case to a virtual hearing in October. As we transitioned our preparation and expectations to a remote hearing, our supervisor Catherine Klein's encouragement and positive team spirit made adjusting to new and different (for all of us) ways of doing things manageable and, I would even say, a fun challenge. The hearing itself was an exhilarating experience. The most fulfilling part, however, was seeing our client's tears of joy and relief when the judge ruled in her favor. A real privilege."
Totoro added, "I had the privilege of working with Carmita Hedman Sequeira and our supervisor, Catherine Klein, to complete my first trial with the Families and the Law Clinic. I could have never imagined that my first hearing would have been a remote one via WebEx, but nonetheless, it was a truly unforgettable experience. I certainly never anticipated that I would be introducing exhibits into evidence through a screen share on my laptop. It was incredible to witness first-hand how the court has adapted and adjusted to the world of remote hearings and what could possibly be in store for the future. Despite the challenges that came with an unconventional hearing, it was an overall positive and successful hearing for ourselves and our client."
Catholic Law Professor and CCLS Director Catherine Klein said about the team's work on the case, "Carmita and Emily developed the trial strategy and evidence, and thoroughly prepared our client for the hearing, including all aspects of the technological challenges the WebEx appearance presented for our client who does not regularly use a computer. An additional challenge was working through a court interpreter because our client is a Spanish speaker. During the hearing, our client's testimony and the introduction of exhibits went very smoothly. Carmita and Emily split up responsibilities so that they both had significant roles. Both were extremely professional and I am incredibly proud of their work on behalf of our client."