June 04, 2020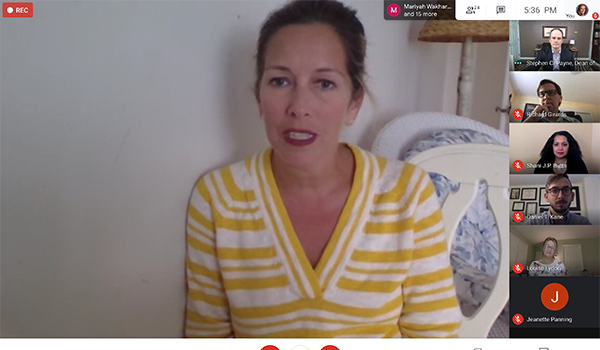 On Wednesday, June 3, Catholic Law welcomed admitted students to the "Connect with the Catholic Law Community" web series. Hosted by the Office of Admissions, this week's program featured Catholic Law alumna Lee Carosi Dunn '01, Head of Outreach for Google's work with the White House and other agencies with the new Administration.
Dean Stephen C. Payne welcomed the group, taking time first to acknowledge the death of George Floyd. He then introduced Dunn to the group. In her position, Dunn serves to assist the Administration in working with Google on important projects as well as educate members of the Administration on Google's policy priorities.
As Dean Payne moderated the event, Dunn shared her experience, from her time working at a phone company all the way through to her now nine-year career at Google, "Nobody could have predicted in '96 that the Cloud would exist or that we would be meeting each other virtually like this, so easily from our own homes." Dunn also spoke to the committed, loyal alumni network that Catholic Law provides. Alumni "want to see other Catholic grads come through" and have a deep appreciation for the scrappy commitment and passion graduates bring with them.
Towards the end of the hour, Dunn took questions from attendees. Some admitted students, like Dunn, work before returning to school for a JD and are now making the transition to attending law school. When asked what advice she could give to someone coming to law school from a different field, Dunn shared, "Bring that with you." Dunn continued, "I would embrace it. If you want to completely pivot, pivot, but if there are ways that your legal classes can enhance what you've been working on and make you more interesting to an employer, use that to your advantage too."