October 05, 2020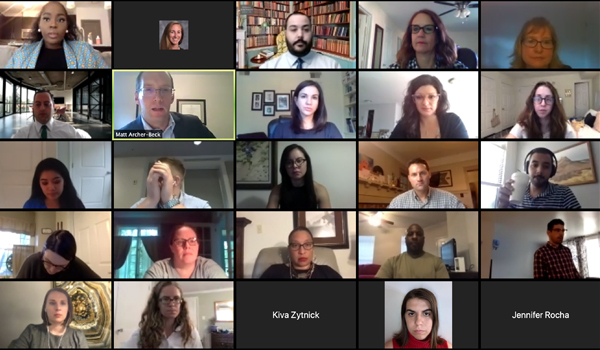 On September 29, 2020, the Office of Career and Professional Development, in partnership with the American Bar Association's Government & Public Sector Lawyers Division and George Mason University - Antonin Scalia School of Law, hosted a "Public Lawyer Career Panel" featuring Catholic Law's distinguished alumni Onyinyechi Onungwa '19 (Law Clerk to Judge Sean Wallace, Circuit Court for Prince George's County, Maryland), Jonathan Tabacoff '14 (Attorney, National Labor Relations Board), and Jack Vivian '17 (Former Law Clerk to Judge David B. Sentelle, U.S. Court of Appeals, District of Columbia Circuit and Judge Roger W. Titus, U.S. District Court, District of Maryland) along with alumni from George Mason University. Assistant Dean Tonya Gaskins '03 and Kiva Zytnick, Associate Director for Pro Bono Program and Public Interest Law, also contributed to the discussions with students.
After a brief introduction from Katherine Mikkelson '90 and Marina LoCasto (Representatives from the ABA), the moderator, Matt Archer-Beck (Senior Counsel at the U.S. Securities and Exchange Commissions (SEC)) steered the discussion and encouraged panelists to describe their experience in the public interest sector. After the initial discussion, panelists and attendees were given the opportunity to participate in small group discussions in break-out rooms.
Attendees left the panel armed with fresh insight regarding life as a public sector lawyer.