October 05, 2020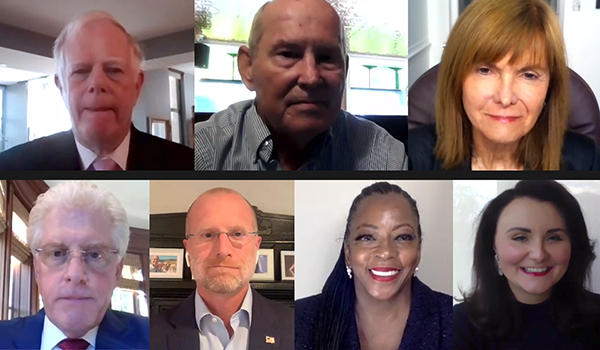 L to R top: Michael F. Curtain, J. Michael Hannon, and The Honorable Diane Kiesel 
L to R bottom: Patrick M. Regan, Brendan T. Carr, Deborah Watson-Stokes, Jennifer P. Lim
The Catholic University of America Columbus School of Law (Catholic Law) is honored to have such a supportive and committed alumni base. Our alumni are an active part of the Catholic Law community and share a commitment to academic achievement and the pursuit of justice, mercy, and humble service. Our alumni find ways to engage with the Law School for the benefit of our current students and our community.
Each year, Catholic Law recognizes and honors its distinguished alumni; the purpose of which is to recognize outstanding alumni for their individual achievements, contributions to their industries or professions, service to their community, and demonstrated loyalty to Catholic Law. The 2020 Distinguished Alumni Awards presentation, held during Reunion Weekend, honored seven of the year's most distinguished alumni. The recipients represent a talented group of individuals who have contributed to their professions and the communities they serve. 
On October 2, joined by alumni, family, and friends, Dean Stephen C. Payne recognized each of the recipients. In his remarks, Dean Payne noted, "It is my privilege and honor to recognize the 2020 Distinguished Alumni Award recipients." Following the awards, both Jeffrey Puretz '81, Chair of the Board of visitors, and Stanley Woodward '08, President of the Alumni Council, had the opportunity to address the group. Puretz noted the school's long, distinguished history of producing high achieving graduates, of which this group is most certainly a part. To Puretz, the group embodies a common theme, that each is "not only professionally successful but personally committed—maybe our school had something to do with those values." Woodward reiterated how inspiring each recipient is and shared, "the singular message your accomplishments instill in us and words, frankly, that I live by is 'how can I help.'"
Below are the 2020 Distinguished Alumni Awards recipients. 
William Callyhan Robinson Alumni Award
Michael F. Curtin '65
Partner, Curtain Law Roberson Dunigan & Salans
The Columbus School of Law Distinguished Alumni Award
J. Michael Hannon '80
Founder, Hannon Law Group, LLP
Patrick M. Regan '80
President & Senior Partner, Regan Zambri Long
The Distinguished Recent Alumni Award
Brendan T. Carr '05
Commissioner of the Federal Communications Commission
Jennifer P. Lim '10
Founder and Executive Director, Republican Women for Progress
The Distinguished Public Service Award
The Honorable Diane Kiesel '85
Acting Supreme Court Justice, 12th Judicial District of New York
Deborah Watson-Stokes '90
Supervisor of the Municipal Court Unit, Assistant District Attorney for the Philadelphia District Attorney's Office