November 12, 2020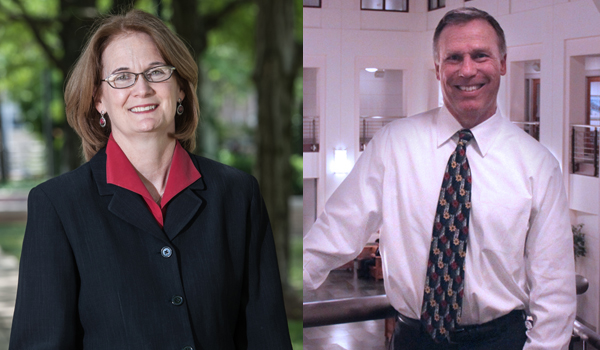 On November 11, 2020, Catholic Law's Black Law Students Association (BLSA) and Criminal Law Society (CLS) co-hosted a virtual event examining the Breonna Taylor Case. Shala Barney (3L), President of BLSA, welcomed the group, recognizing the importance of coming "together to understand the practicalities of criminal law and always consider and provide a space to discuss the critical social implications of the law."
Colleen L'Etoile (3L), President of CLS then introduced the program's guest speakers, Professor Daniel Zachem, who just recently retired from teaching at Catholic Law and is also a former Assistant United States Attorney, and Professor Mary Graw Leary, who in addition to teaching Criminal Law at the Law School, is a former state and federal prosecutor. Both Zachem and Graw Leary used their extensive expertise in criminal law to provide the group with some legal issues to consider as well as a legal framework with which to discuss the Breonna Taylor case in a productive way.
Zachem began by first discussing search warrants, noting Richards v. Wisconsin and Hudson v. Michigan as two important cases that are of primary importance when considering the Breonna Taylor case. In breaking down aspects of those two cases, Zachem was able to illustrate different aspects of the law working in conflict with each other in the case of Breonna Taylor. Then Graw Leary followed up by pivoting focus to grand juries and self-defense. Graw Leary spoke generally about procedures and mechanics of a grand jury before zooming in more specifically on the use of the grand jury in this case—leaving an opening for potential discussion about what went wrong.
In the remaining time, the conversation was opened up to questions from those in attendance. Zachem and Graw Leary further addressed questions including the potential for the federal government to initiate an investigation of the case, the need for additional investigation prior to the case being presented to the grand jury, systems for challenging the decision making of an attorney general, and impartiality of grand jury members.
Of the event L'Etoile shared, "Shala and I thought this was a very important discussion to have, not only to learn about the intricacies of criminal law as it pertains knock and announce warrants and grand jury indictments but also to allow ourselves as law students to reflect on what can and should be changed in our society to prevent the tragedy of Breonna Taylor's death from repeating itself."