November 17, 2021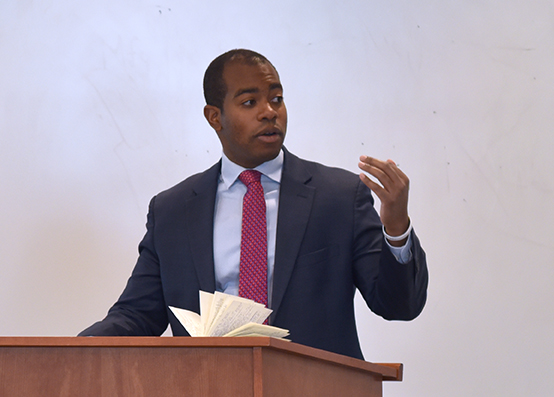 On November 17, 2021, Catholic Law hosted the first Faith in Action event of the 2021-2022 academic year. The program featured Louis Brown, Executive Director of the Christ Medicus Foundation. In his talk, "Love, Healing, and Justice in Washington," Brown spoke about his journey of pursuing a legal and government career that led him more deeply to encounter God, to discover his own identity in Christ, and to seek to be an instrument of God's love and justice through protecting human dignity in health care, law, and public policy.
Elizabeth Kirk, Director of Catholic Law's Center for Law and the Human Person, began the program by welcoming the group and thanking Brown for speaking. Before turning the podium over to Brown, she briefly drew attention to the final words of St. Thomas More: "The king's good servant, but God's first." She noted that, while there is some debate over whether it was "but" or "and" that was said, his words ultimately point to the importance of a unity of life that transcends personal and professional boundaries. Brown's talk then focused on the unity of Catholic identity within his vocation as a lawyer. As he spoke, Brown reflected on what the role of a Christian lawyer is and how to understand that role and identity. He shared with the group several examples throughout his legal career that helped him to find that identity and find God in his work. The program concluded with a Q&A segment in which there was further discussion regarding recommendations for forming one's identity, how to deal with conflicts of morals within one's career, and navigating pushback regarding faith in the law. Brown specifically recommended to the students several texts that were instrumental in his formation including Interior Freedom (Jacques Philippe), Virtuous Leadership (Alexandre Havard), Power of Silence (Cardinal Robert Sarah), and John Fisher and Thomas More (Robert J. Conrad, Jr.).
Brown serves as the Executive Director of the Christ Medicus Foundation, a Catholic health care nonprofit whose mission is to share the healing love of Jesus Christ in health care. Brown received a Juris Doctorate from Howard University School of Law in Washington, D.C. Brown has previously taught a course on Human Dignity in Health Care as a Lecturer at Catholic Law and will serve as Associate Director of the Center for Law and the Human Person.
The Faith in Action series was founded to promote the integration of faith and the practice of law through the witness of legal professionals and is sponsored by Catholic Law's Center for Law and the Human Person.