February 01, 2021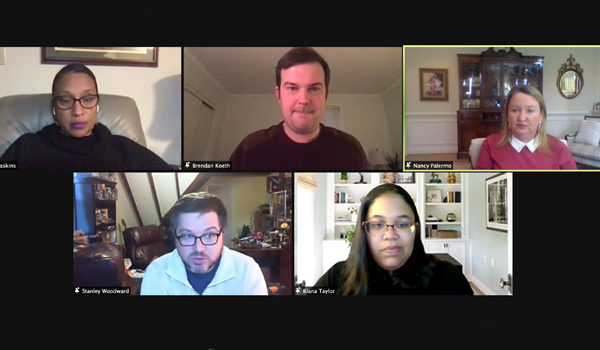 On January 28, 2021, Tonya Gaskins '03, Assistant Dean, Office of Career and Professional Development (OCPD), along with the Office of Development and Alumni Relations partnered together for the virtual event "Shifts and Transitions in Law Careers." Catholic Law students joined alumni to hear from a few about the shifts and transitions they have navigated in their legal careers. Moderated by Nancy Palermo '97, guests heard from alumni speakers Stanley Woodward '08, Alumni Council President; Kiana Taylor '03; and Brendan Koeth '13.
After welcoming remarks from Gaskins, Palermo introduced the evening's panelists and each took a turn outlining their career evolutions and answering questions about their experiences. The speakers covered a range of topics including what factors went into their decisions to make a change, how day-to-day experiences differ depending on roles, and how to conduct job searches in different markets. Several guests also underscored the importance of focusing on your network when looking to make a transition. Woodward shared, "I can't overemphasize the importance of connections—yours and others."
With the remaining time, the panelists, Palermo, and Gaskins answered questions from the audience. As the program drew to a close, Gaskins reiterated that shifts and transitions are a natural part of making career decisions.