August 24, 2021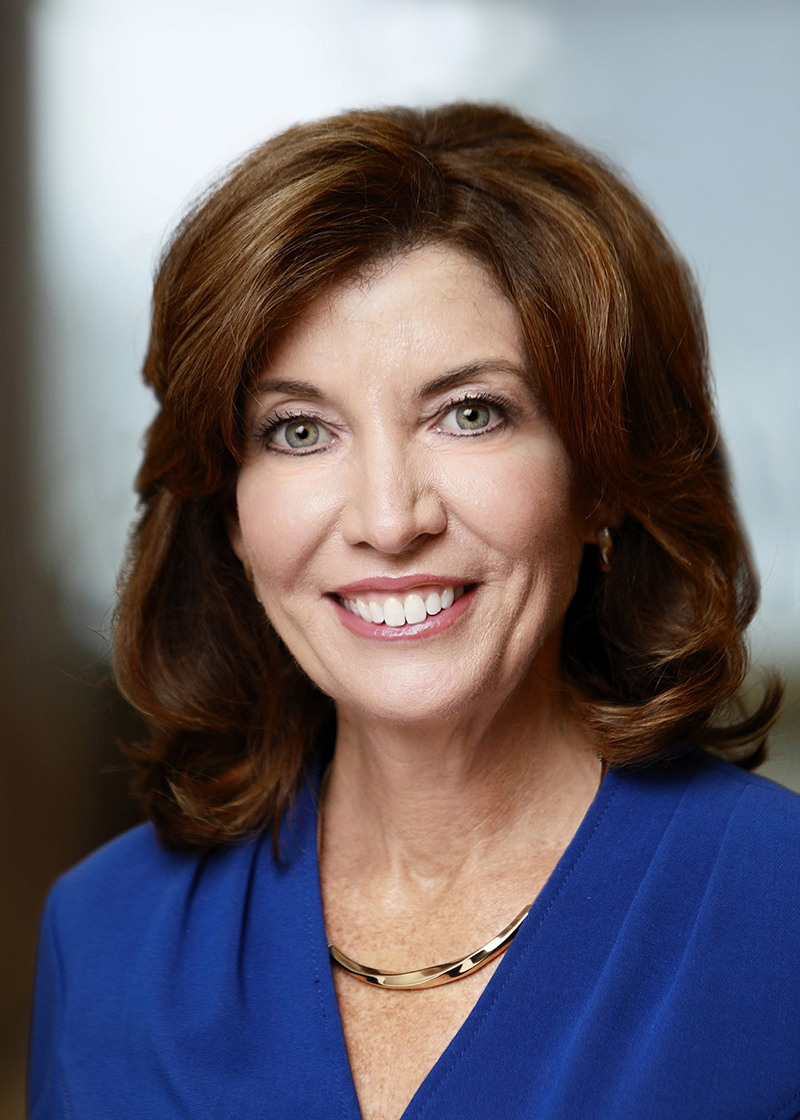 The Catholic University of America Columbus School of Law (Catholic Law) wishes alumna Kathy Hochul '83 well as she becomes the first female Governor of New York. Hochul has served across multiple levels of government and is a dedicated public servant with almost 30 years of experience. 
Upon hearing the news that Hochul would be taking the reins of New York, Stephen Payne, Dean of Catholic Law, said, "I'm not surprised that a graduate of our law school and fellow Upstater is so well prepared to restore stability to the leadership of my home state. We wish the Governor-to-be nothing but the best."
John Garvey, President of The Catholic University of America, also commented, "We wish Catholic Law alumna Kathy Hochul '83 all the best as she prepares to take the helm as the first female governor of New York. A smart, dedicated, and tenacious public servant, she is well-prepared for the tough job ahead of her."
Born in Buffalo, New York, Hochul was instilled with a deep passion for public service and activism by her family. While attending Syracuse University, she became politically active on campus—including lobbying the university to divest from South Africa because of apartheid. She graduated with a Bachelor of Arts degree in 1980 before attending Catholic Law and earning her J.D. in 1983. Following graduation from law school, she worked at a Washington, D.C., law firm and then as an aide to U.S. Representative John Falce, U.S. Senator Daniel Patrick Moynihan, and the New York State Assembly.
In 1994, Hochul earned her first elected position on the Hamburg Town Board. In 2003, Erie County Clerk David Swarts appointed her as his deputy. When Swarts left office in 2007, then-Governor Eliot Spitzer appointed Hochul to the role, and she was later elected to fill the remainder of Swarts' term. In 2011, Hochul ran successfully in a special election to fill the seat of New York's 26th Congressional District. Hochul's tenure in the U.S. House of Representatives, which lasted until 2012, included co-sponsoring bills to streamline passport acquisition, bolster the economy and job creation, and protect small businesses.
Hochul was elected to the position of Lieutenant Governor of New York in 2014 (and re-elected again in 2018), making her the 77th person to hold the position. In her seven years as Lieutenant Governor, she has been chair of the Economic Development Council, chair of the Task Force on Heroin and Opioid Abuse and Addiction, leader of "Enough is Enough" to combat sexual assault on college campuses, and liaison to New York's federal representatives in Washington, D.C.
Catholic Law Board of Visitors Chair, Douglas Bonner '83 noted Hochul's impressive dedication to public service, "My Catholic Law School classmate, Kathy Hochul '83, has proven herself to be a committed and able New York public servant at every level, serving in city and county government, in Congress, and as a two-term Lieutenant Governor. I met Kathy again during her campaign for Congress ten years ago and was struck by her complete dedication to serving her New York constituents. The Catholic Law School Class of 1983 is proud to call one of our classmates the first female Governor of New York, and we look forward to the leadership she will bring to this very important office."
Classmate and long-time friend Allison Carney Prince '83 shared, "Kathy is a simply outstanding person. She is a true leader, community advocate, exemplary friend, and committed wife and mother. I have long admired her devotion over the past several decades to public service for the state of New York. For those of us who have known her since our first year of law school in 1980 and have witnessed her tireless commitment to the state and her ability to build consensus, we can't imagine a better governor."