November 10, 2021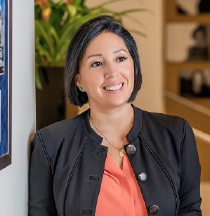 "Growing up in D.C. with Peruvian parents gave me a window into two very different cultures." Jessica A. Springsteen '05 is currently a partner for Clifford Chance where she works in the Americas Energy and Infrastructure Group—focusing on development projects in emerging markets. Springsteen recently reflected on her journey and the work that she does today.
Though born and raised in Washington, D.C., Springsteen would often travel to Peru to visit family. It was on these trips that she first realized her career interests. "I was able to see first-hand and at a young age, just how different my life in D.C. was from that of my Peruvian relatives. I decided to find a profession in an international field, where I could use my language skills and, where possible, work with clients with a development mandate."
After earning her bachelor's degree from The Catholic University of America (Catholic), she opted to gain some work experience before beginning law school. "I joined the legal department of the International Finance Corporation (IFC), which is the private sector arm of the World Bank Group, in December of 1998, as a project assistant to a group of IFC lawyers focused on energy and infrastructure projects in emerging markets. Since I speak both Spanish and English fluently, my work at IFC on debt and equity transactions in Latin America allowed me to use my Spanish language skills from the very start and gain first-hand experience of how an international financial institution operates." During this time, Springsteen also earned a master's degree in international affairs from Catholic. "The opportunity to continue to gain professional experience in combination with my academic studies was invaluable, and I received my degree with high distinction." This also allowed her to see the impact she could have as a project finance lawyer and decided to pursue her J.D.
With the encouragement of her IFC colleagues, Springsteen enrolled as an evening student at Catholic Law. "I loved the community support I had obtained from my professors during college and graduate school, so I thought Catholic Law would be perfect for me." And she was right. During her time in law school, she continued to learn and grow. "I learned how project finance transactions in emerging markets are structured and documented across a wide variety of projects in many different countries, in particular Latin America. I also learned that I was able to work extremely hard for sustained periods of time, and yet my appetite to keep learning never waned."
After graduation, Springsteen continued to work at IFC before joining the Inter-American Development Bank (now IDB Invest) in July 2008. At IDB Invest—where the working language is Spanish—Springsteen was able to elevate her Spanish to a very technical, professional level. "Although initially daunting, this experience has proved invaluable throughout my career at Clifford Chance, as it has allowed me to lead negotiations in English or Spanish with an equal comfort level. After three years of working on a wide variety of projects all over Latin America, I was ready to broaden and deepen my legal skill set, and I joined Clifford Chance as a first-year associate in 2011."
Springsteen has felt particularly called to be a role model for junior women entering the firm. "As a working mother of two sons, I have worked hard to be a role model for junior women lawyers, who wonder if they can have a rewarding career in the law and also raise a family. I have embraced the popular phrase – You cannot be what you cannot see – as a mantra for demonstrating what a woman can achieve at my law firm." She also shared some advice for law students and young lawyers more broadly: "The ability to evolve and adapt is crucial not only for my practice but for anyone entering the legal field. Be open. Don't rest on your laurels; keep learning and growing, as the world is ever-changing. Don't be afraid to make mistakes either (we all do); the key is to learn from those mistakes and do it better the next time."