February 01, 2021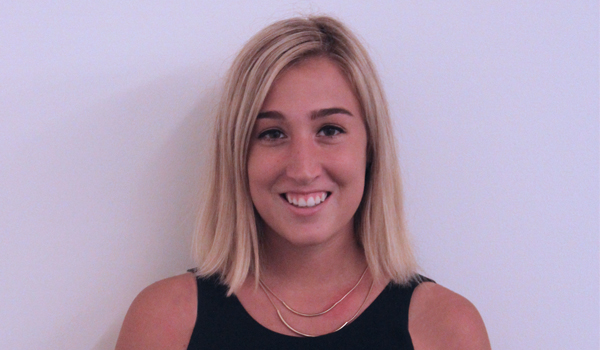 Whether one comes to Catholic Law with a clear path in mind or not, the Law School is committed to helping students find their focus. For third-year law student Rachel Campbell, she's known she has wanted to be a lawyer since she was eight years old. Back then she would rush to get ready for school just so she could watch the Today Show coverage of the Laci Peterson murder case. "I was horrified yet fascinated about the whole case and decided right then I wanted to be an attorney." Now, with just a semester left in law school, Campbell reflects on her law school experience and her focus on the future.
After graduating a semester early from her undergraduate program at the University of South Carolina, Campbell, a New Jersey native, was ready to pursue her law degree. She focused her search at law schools in the D.C. area. "I wanted to be in a city—especially one that was at the heart of politics and policy." What she found at Catholic Law was that and more. The Law School's state-of-the-art building puts students just minutes away from the Nation's legal epicenter while maintaining that small school experience. "Catholic Law had a beautiful building and all the people I spoke to were so welcoming. I had many questions but was unsure who to ask and as soon as I arrived to take a tour someone at the library desk jumped up and offered to show me around. I knew that a school that was that welcoming and hospitable was one that I wanted to attend."
Campbell has taken advantage of practical opportunities to learn throughout her time at Catholic Law. In her first internship for the New Jersey-based firm DiFrancesco, Bateman, Kunzman, Davis, Lehrer & Flaum, P.C., Campbell received hands-on training, working in areas of the law including wills, insurance cases, and education lawsuits. "All the attorneys were great at giving us assignments and allowing us to attend court with them." Campbell has also worked in the Law School's Low Income Taxpayer Clinic (LITC) assisting individuals in low-income tax brackets with navigating IRS issues. " Tax law is not something I see myself doing in the future but it was a great learning experience!" During her 2L summer, Campbell interned at another New Jersey law firm, Snyder&Sarno, where she worked on cases related to family law, including child and domestic abuse. Campbell acknowledged how difficult it can be to work on cases like this, but also noted how rewarding it was. "This field is very interesting to me, and I plan to continue working on family law cases after graduation by clerking for a New Jersey judge."
Campbell has also participated in several co-curricular activities during her time at Catholic Law. Currently, she is the President of Students for Public Interest Law (SPIL) which works to promote the Law School's commitment to providing legal services in the public interest sector. SPIL organizes and participates in numerous community service and pro bono efforts to provide law students with experience in public interest law. The organization also hosts an annual live and silent auction to raise money to help provide summer stipends to students who take unpaid legal positions in the public interest sector. Last year, Campbell led the organization and execution of the event. "Running the SPIL Auction was incredibly stressful, but it was amazing to see how many professors were willing to donate their time and money and show they really care about all the students here at CUA." In addition to her work with SPIL, Campbell is also a member of Women's Law Caucus and acts as the group's historian.
With her schedule packed with classes, internships, and co-curricular activities, Campbell also recognized the importance of making time for oneself outside of law school. Campbell shared, "I think it's important to have law school and non-law school friends around you. When you are with law school friends you often find yourself talking about classes or jobs, but with friends who have no idea what goes on in law school, you can relax and forget about school for a brief period of time." She added, "I also encourage everyone to work out and read something other than law school books in order to give their brain a rest."
Of course, the last ten months have added unprecedented levels of stress to law students as higher education institutions across the country and around the world have had to make adjustments due to the COVID-19 pandemic. While Campbell, like many, has missed the connections created by in-person interactions with peers and professors, Campbell also acknowledged the hard work that has gone into making a meaningful virtual experience. "I have been impressed by the way everyone has adjusted to these changes and know that in the future more court hearings and meetings will be held virtually." She concluded, "My time at Catholic Law has helped me form a strong career path. I have been lucky to have such amazing professors who not only teach the required subjects but include other interesting classes as well."