April 06, 2021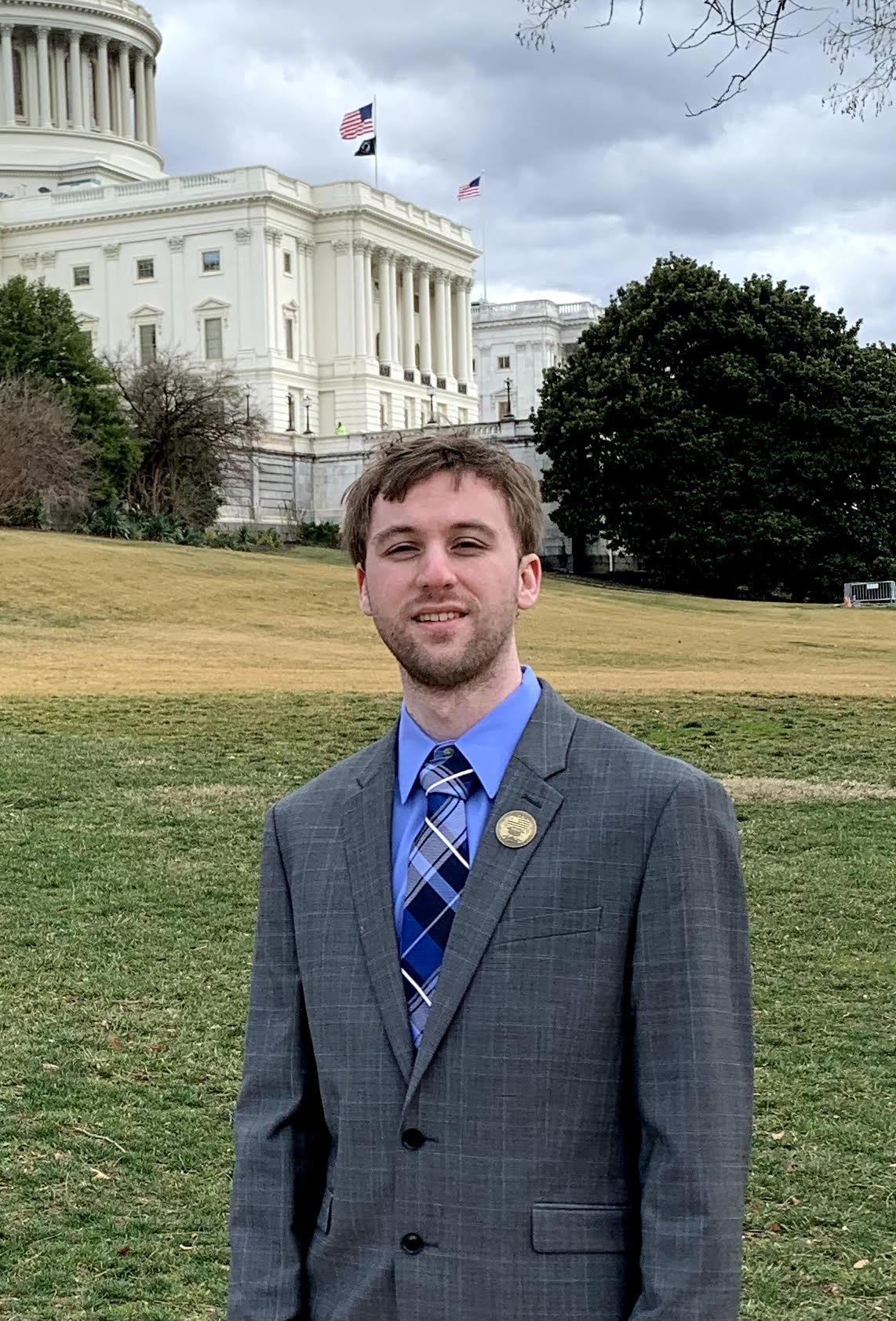 Catholic Law strives to achieve academic distinction. It is committed to making substantial and lasting contributions to the enrichment of knowledge, the integrity of the legal profession, and the enhancement of the welfare of the community—all rooted in the Catholic intellectual tradition. This established Catholic tradition and the school's long history resonated with third-year law student Brian Barth when choosing a law school three years ago. Now, as Barth prepares for graduation and the next chapter in his legal career, he took a moment to reflect on what his Catholic Law experience has meant to him.
As a student, history and politics have always been topics of interest to Barth, so it came as no surprise that he majored in History while in college at Mount St. Mary's in Emmitsburg, Maryland. It was during Barth's time as an undergraduate that he also got his first taste for the law—and that was a gamechanger. He shared, "I took a 'Law 101' class which had been offered by my university, to see if it would interest me." What started as general curiosity, quickly morphed into something more. Barth explained, "I excelled in that class and very much enjoyed learning the basics of different areas of the law. I decided that going to law school would be the perfect way for me to take my interest in history, and its related subjects of law and politics, and turn it into a career that I could both support a family and help other people."
From undergrad, Barth opted to go straight to law school which allowed him to maintain his academic momentum. When he started thinking about which law school to attend, Catholic Law quickly rose to the top of his list. Not only was Barth attracted to the school's Catholic identity, but Barth's connection with an alumnus of the school also helped him to make his decision. Barth shared, "My undergraduate law professor, Professor Egan, who taught the class that got me interested in law, recommended Catholic Law to me." Barth explained that Egan talked about the strong faculty and great alumni connections and that really solidified his interest in the school.
Since joining the Catholic Law community in 2018, Barth has found opportunities to meaningfully engage in the law school experience. As an Associate on The Catholic University Law Review during the 2019-2020 academic year, Barth wrote and published an article for the publication. This year, he has worked diligently as a Note and Comment Editor for The Catholic University Journal of Law & Technology, Vol. 29. Barth has also been actively engaged in Catholic Law's chapter of the Republican National Lawyers Association, serving as the organization's President since 2019.
While much of his time outside of the classroom has been focused on co-curricular activities and planning his wedding this past October to his high school sweetheart, Ashley, Barth also acknowledged an eagerness to incorporate pro bono work into his future legal career. Barth noted, "I plan to participate in a lot of pro bono work after graduation." This career goal aligns with Barth's faith and Catholic Law's belief in the professional and social responsibility of lawyers to use their legal skills to advance public interest and serve the community.
Of course, like most law students across the country, Barth's law school experience hasn't been exactly what he expected when first starting on his law school journey. Since the start of the pandemic, classes have been administered virtually or in hybrid form, and students and faculty have had to navigate learning in very new ways. Through this time, Barth has learned more about himself as a student and has adapted to fit this new model. It hasn't always been easy though. Barth admitted, "COVID has been difficult for me, school-wise. I am a somewhat absent-minded person, and I thrived in the in-person environment of law school. It was very helpful for me to have classmates to chat with and keep me on my toes, about due dates and also to help me understand the material better. I also enjoyed interacting with the professors. The professors here are great and highly engaging for in-person classes." He continued, "Before, I considered myself quite shy and introverted, but I really do miss interacting with students and teachers alike at law school. I've also learned that it takes much more discipline for me to be productive at home, which was a good lesson for me to learn since my job right now is also completely remote."
With classes and work, and a pandemic on top of it all, law school can be stressful. Barth has had to find ways to maintain a sense of balance while juggling it all. Before COVID, his commute was a particularly helpful part of that process. He shared, "Before COVID, I commuted to and from law school from my home in central Maryland. This 1 hour, 20-minute drive provided an excellent time for me to decompress after a day at school and unwind. I enjoyed listening to podcasts, music, or just thinking and enjoying the drive." He has also relied on friends and family who've been supported and have helped Barth to find a good school/ life balance.
As his final year at the Law School draws towards its end, Barth is grateful for his experience at Catholic Law. He concluded, "I was very intimidated at first about the prospect of going to law school. I did not know what to expect, how hard it would be, or if I would do well. In spite of all this, the environment here at Catholic Law has helped me to feel confident and successful. I'm very grateful for the wonderful professors—especially those I had during 1L year—who were great at walking the fine line between being tough and being kind. I really appreciate that, and I'd recommend this school to anyone interested in being a lawyer."