March 31, 2022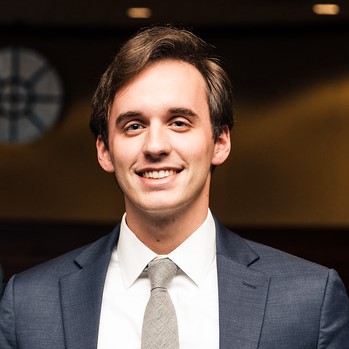 The Catholic University of America Columbus School of Law is pleased to announce Dalton Nichols, Regent University School of Law, as a finalist in the Second Annual CSL Prize in Judicial Clerkship Opinion Writing competition held in conjunction with the Judicial Clerkship Opinion Writing Conference which was held February 24-26, 2022.
The competition was open to all conferees, which consisted of rising clerks who will serve in federal or state appellate court chambers in the coming year. Subsequent to two days of writing instruction from conference faculty, each entrant drafted a short judicial opinion based on a First Amendment problem written by the Columbus School of Law. The entrants were then submitted for judging in a blind competition to the Judicial Clerkship Opinion Writing Conference faculty who also served as the judges of the competition. The competition was based solely on writing criteria.
Nichols will clerk for Judge Damon R. Leichty of the United States District Court for the Northern District of Indiana during the 2022–2023 term.
Nichols recently reflected on the importance of a conference like the Judicial Clerkship Opinion Writing Conference. He shared, "The conference truly left me inspired. The 2022 conference class was a collection of amazing law clerks and amazing people. The faculty seemed eager to help us improve our skills — true servant leadership was on display. I left the conference more excited about clerking!" He continued, "I want to encourage future clerks to apply. I am beyond grateful that I attended."
About his success at the conference, Nichols concluded, "I am honored and humbled to be recognized by the conference faculty. They left an impression on me through their dedication to their craft, and it inspired me to have the same commitment. As I prepared my opinion, I went point-by-point through the advice they shared. I am encouraged to see immediate results from their instruction."