April 04, 2022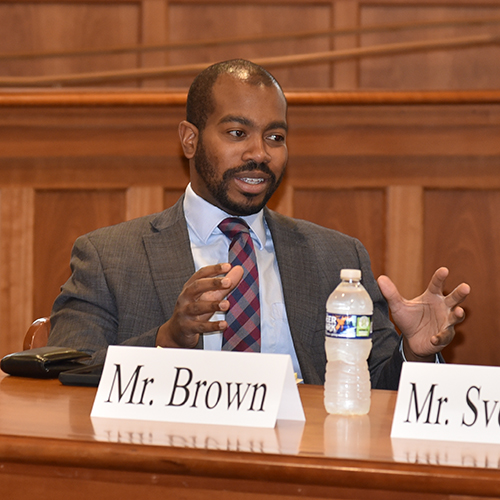 Catholic Law's Law and Public Policy Lecture Series hosted its third and final program of the 2022 series on Thursday, March 31, 2022. The evening program, "Fully Human: Discernment, Change, and Growth for the Beltway Lawyer," featured guest speakers Louis Brown, Executive Director of the Christ Medicus Foundation, and Glenn Willard, Of Counsel for Squire Patton Boggs. Brown and Willard shared their stories about their intellectual and professional journeys through growth, discernment, and change over two decades in the public arena.
Brian Svoboda, Director of the Law and Public Policy Program, opened the event with a welcome to those in attendance and introductory remarks. Brown and Willard then responded to a series of moderated questions posed by Svoboda. The hour-long conversation shared both Brown's and Willard's journey with their Catholic faith, where they are on that journey today, and how their faith impacts each of their work. In particular, their comments covered how they came to break away from the "path of least resistance," and addressed the problem of work/ life balance through unity of vocation. The program concluded with questions from the audience and a reception in the atrium, where students and alumni talked directly with the speakers.
Brown serves as the Executive Director of the Christ Medicus Foundation, a Catholic healthcare nonprofit whose mission is to share the healing love of Jesus Christ in health care. Brown received a Juris Doctorate from Howard University School of Law in Washington, D.C., Brown has previously taught a course on Human Dignity in Health Care as a Lecturer at Catholic Law and currently serves as Associate Director of the Center for Law and the Human Person.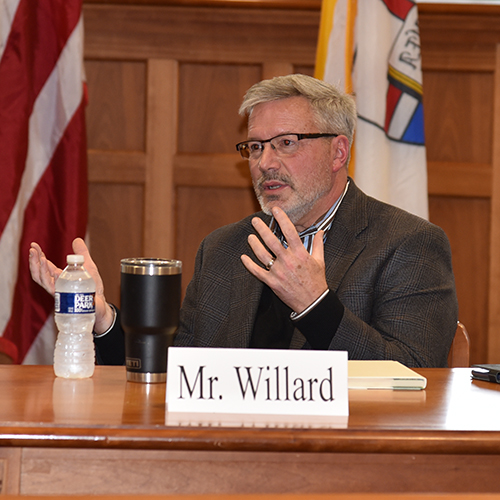 Willard serves as Of Counsel for Squire Patton Boggs. He helps corporations, candidates for public office, political committees, and other nonprofit organizations participate in federal and state elections under complicated and varied campaign finance regulations, while guiding organizations through the many public ethics and lobbying regulations as they seek to influence public policy. He previously served as counsel to Commissioner David Mason of the Federal Election Commission. Willard received a Juris Doctorate and a Master of Arts in Public Policy from Regent University School of Law.