April 08, 2022
On Thursday, April 7, 2022, the campus was abuzz for the Seventh Annual Catholic University Research Day. The event marks an exciting opportunity for students and faculty, across disciplines, to leave their classrooms and labs and share their work with the community at large. This year, seven members of the Catholic Law community shared projects they have been working on all year.
During the morning session, Professor Cara H. Drinan and two third-year students, Timothy Manion and Jesse Raines, gave oral presentations to members of the university-wide community.
Session 1B: Cruel and Unusual Youth Confinement
Cara H. Drinan, Columbus School of Law, Director of Faculty Research and Professor of Law Professor
Drinan shared her research in the space of cruel and unusual youth confinement. She began by establishing that "kids are different," citing brain research on adolescent development that the U.S. Supreme court acknowledges as true. Her research posits that if kids are different, then we need to assess the ways in which those differences should impact when and how we confine them. Drinan outlined the body of the U.S. Supreme Court cases that affect youth in juvenile sentencing, the implications those decisions have on the conditions of youth confinement, and what should be done in regard to adjusting our model for youth confinement. To view her presentation, click here.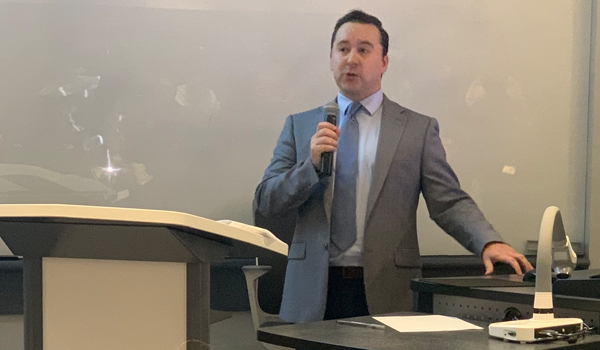 Session 2B: Trafficking Candy from a Baby
Timothy Manion (3L), Columbus School of Law
Manion's presentation focused on the rampant use of human trafficking in the cocoa industry — and more specifically the use of forced child labor in Côte D'Ivoire. Manion looked at various theories of corporate civil and criminal liability that international victims of human trafficking could employ to sue U.S. corporations when corporations knowingly benefitted from a venture that engaged in human trafficking. To view his presentation, click here.

Session 2C: The Uyghur Forced Labor Prevention Act as a Model for Future Success? A New Method to Combat Labor Trafficking and Tighten Global Supply Chains
Jesse Raines (3L), Columbus School of Law
Raine's presentation explored the newly enacted Uyghur Forced Labor Prevent Act (UFLPA). With the goal of ensuring that American entities are not funding forced labor among ethnic minorities, the U.S. federal law would change U.S. policy in China's Xinjiang Uyghur Autonomous Region. To view his presentation, click here.
The following Catholic Law students also presented research posters: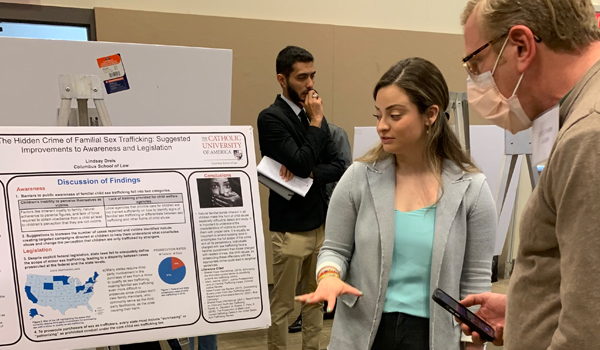 The Hidden Crime of Familial Trafficking: Identifying Risk Factors and Prevention Tactics
Lindsay Dreis (2L), Columbus School of Law
Click here to view the presentation.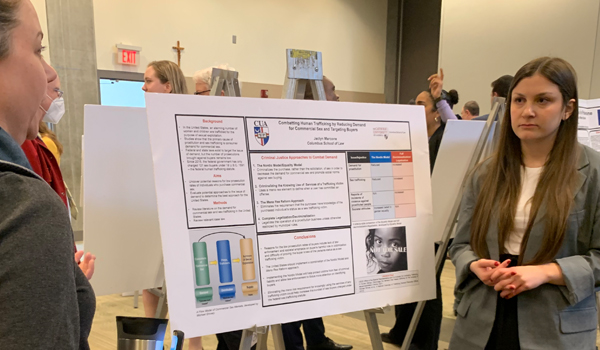 Combatting Human Trafficking by Reducing Demand for Commercial Sex and Targeting Buyers
Jaclyn Marcone (2L), Columbus School of Law
Click here to view the presentation.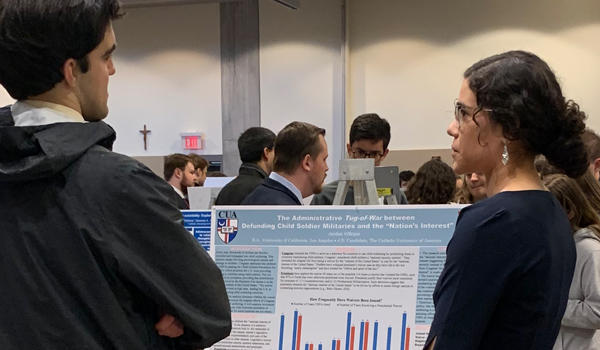 The Administrative Tug-of-War between Defunding Child Soldier Militaries and the "Nation's Interest"
Jordan Villegas (3L), Columbus School of Law
Click here to view the presentation.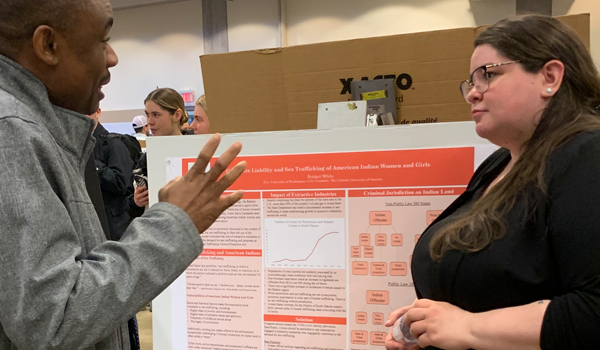 Corporate Liability and Sex Trafficking of American Indian Women and Girls
Bridget White (3L), Columbus School of Law
Click here to view the presentation.
All of the participating law students are members of Senior Associate Dean Mary Graw Leary's Human Trafficking Seminar. About their work, Graw Leary shared, "The Human Trafficking Seminar asks students to research areas of human trafficking that need attention and propose solutions to these important human rights violations. These future attorneys are creating important legal scholarship that can positively impact the world."