April 12, 2022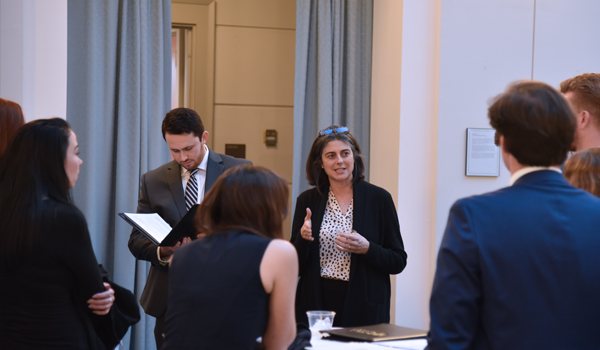 After a two-year hiatus, the Lawyering Skills Program (LSP) appellate arguments returned in person on the evening of Friday, April 8, 2022. During this capstone event, one hundred and fifty-four students — the largest 1L class in a decade — argued before twenty alumni judges. Participating alumni represented class years ranging from 1979 to 2021. Upper-level students also volunteered their time to act as bailiffs and backup judges. First-year LSP students discussed the legal action from many angles in class throughout the semester, but this live-simulation exercise brought the course to a fitting close.
Catholic Law Professor A.G. Harmon drafted this year's problem, which raised thought-provoking legal issues, while at the same time examining the role competent advocates can play in resolving disputes before trial. This year's problem involved a civil False Claims Act qui tam suit by a fictional Hospital Medical Records Specialist (relator) against her former hospital employer for alleged upcoding of Medicare claims, resulting in $450,000 in windfall profits. The case was set in the United States Court of Appeals for the Tenth Circuit. Students previously drafted memoranda in support of, and in opposition to, summary judgment. The District Court for the District of Kansas held that the allegations and transactions in the relator's Complaint had been publicly disclosed, but that she qualified as an "original source" with independent knowledge that "materially add[ed]" to the publicly disclosed information. Accordingly, the relator's action could proceed. On the merits, the district court held that the hospital did not "knowingly" file false or fraudulent claims for payment. Finding no genuine dispute of material fact, the district court granted summary judgment for the hospital. Students' appellate briefs and oral arguments focused on the issues of "public disclosure," "original source" status, and "knowing" submission of false claims.
Professor Lisa Everhart, Director of LSP, shared, "it is rewarding to see our 1L students showcase the practical legal skills they worked so diligently to develop this past year. Loyal alumni support reinforces the supportive professional community they will enter upon graduation."
Event planning and logistical support were provided by Katherine Gamelin Crowley, Associate Dean for Student Affairs and Dean of Students; Heather Doerr, Associate Director of Student Life and Special Events; and Rachel Lane, Administrative Assistant.