September 02, 2022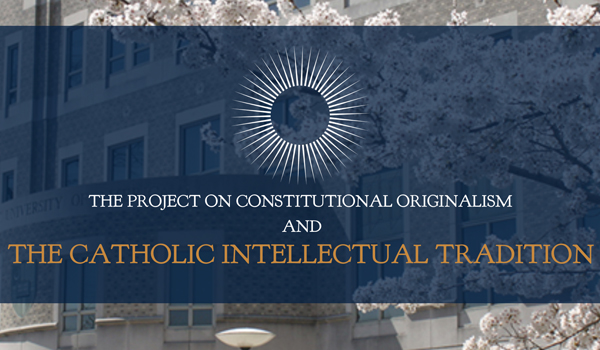 On the evening of September 1, Catholic Law's Project on Constitutional Originalism and the Catholic Intellectual Tradition (CIT) and The American Enterprise Institute (AEI) co-hosted a discussion on the relationship between originalism and the natural law tradition, focusing on whether the two theories are compatible. The program, "Natural Law and Original Meaning," was held in the AEI Auditorium and live streamed virtually. The video of the event can be found here. This was CIT's first speakers event since it formally launched in April 2022.
J. Joel Alicea — who is co-director of CIT, assistant professor of law at Catholic Law, and a nonresident fellow at AEI — opened the event and gave a brief description of CIT's mission. He shared, "This is really an appropriate first event for us at CIT…and an appropriate event to be hosted here at AEI given its potentially significant implications for law and public policy."
Alicea then gave an overview of the debate about originalism and the natural law tradition and introduced the evening's three panelists, allowing each an opportunity to make opening remarks. Sherif Girgis, associate professor of law at Notre Dame Law School, spoke first, using his time to define (1) what originalism is; (2) what natural law is; and (3) why, in general, it is possible for a system to be originalist without violating the natural law. Kevin Walsh, Knights of Columbus Professor of Law and the Catholic Tradition and co-director of CIT at Catholic Law, focused his comments on the importance of justice, law, and jurisdiction, relying on the works of St. Thomas Aquinas. Lee Strang, John W. Stoepler Professor of Law & Values at the University of Toledo College of Law, provided some historical context for how the debate surrounding the relationship between originalism and the natural law tradition came to be what it is today.
Following the panelists' remarks, they engaged in a discussion moderated by Alicea. Alicea posed a series of questions, including what is at stake in the debate and some of the misconceptions about originalism and natural law. To conclude the panel, the discussion was opened up to questions from the audience.
The event is the first of CIT's eight speakers events in the fall of 2022. Other events this fall will include co-sponsorships with The American Enterprise Institute, The Center for the Study of Statesmanship, The Georgetown Center for the Constitution, The Institute for Human Ecology, and The Thomistic Institute.
For more information about upcoming events, visit https://cit.catholic.edu/events/.