September 10, 2022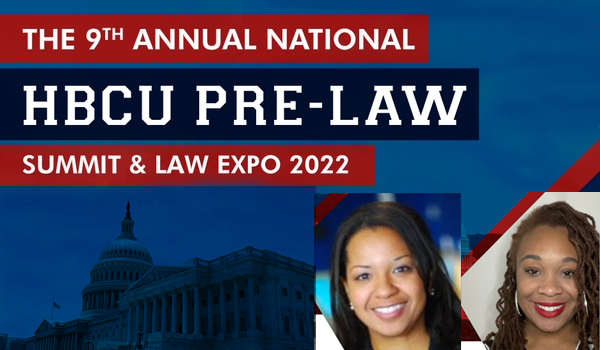 Catholic Law Assistant Dean for Admissions, Shani Butts, and President of the Black Law Students Association (BLSA), Emani Johnson (2L), will be featured panelists at the Ninth Annual National HBCU Pre-Law Summit. Hosted by HBCU law schools The University of the District of Columbia David A. Clarke School of Law and Howard University School of Law the two-day event runs Friday, September 16 through Saturday, September 17 (with bonus optional days on September 15 and 18) and is the only major national pre-law event created especially for HBCU students and alumni interested in law school and becoming lawyers.
Dean Butts will be on a Friday panel entitled, "Mock Law School Admissions Committee Meeting: A Closed-Door Insider Look at How Admissions Officers Think in Making Difficult Selection Decisions," and Johnson, who attended the University of Maryland - Eastern Shore before joining the Catholic Law community, will be participating in the panel, "HBCU Graduates and the Transition to PWI Law Schools and PWI Graduates and the Transition to HBCU Schools: Coping and Leadership Strategies for Diplomatically Dealing with Issues of Race During Your Law School Years."
Click here to learn more about the Ninth Annual National HBCU Pre-Law Summit.