June 22, 2022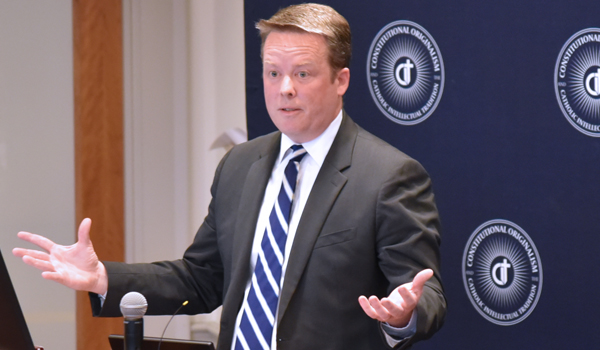 Kevin C. Walsh is joining the Columbus School of Law at The Catholic University of America as a tenured ordinary professor of law and co-director of the law school's Project on Constitutional Originalism and the Catholic Intellectual Tradition (CIT).
He has been on the faculty of the University of Richmond School of Law for the past 13 years. His scholarship focuses on doctrines that define the scope of federal judicial power, and has appeared in numerous publications, including the Georgetown Law Journal, Stanford Law Review, New York University Law Review, and the Notre Dame Law Review.
Walsh clerked for Justice Antonin Scalia on the Supreme Court of the United States and for Judge Paul V. Niemeyer on the United States Court of Appeals for the Fourth Circuit. He is a graduate of Harvard Law School, the University of Notre Dame, and Dartmouth College.
CIT aims to promote scholarship that explores the relationship between the Catholic intellectual tradition and American constitutionalism. Although CIT's primary focus is on theories of constitutional law, such as originalism, it has a broader scope that includes the relevance of the Catholic intellectual tradition for constitutional history, doctrine, and other fields of study.
"Professor Walsh is one of the leading constitutional scholars in the country," said J. Joel Alicea, co-director of CIT. "There is no scholar in the legal academy whose expertise and research are better-suited to the mission of CIT. I'm delighted that he will be joining me as co-director of the project."
Catholic Law's Dean Stephen C. Payne added, "Professor Walsh is a tremendous scholar and teacher. His research is both creative and rigorous, and his enthusiasm for the law and friendliness toward all make him a perfect match for our community."