February 01, 2022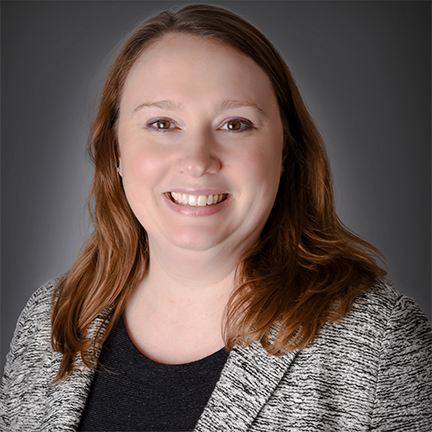 Catholic Law's Part-time Evening Division is carefully designed to meet the needs of working professionals pursuing their JDs—whether they have always planned to work towards a law degree or they've found that a law degree would open new career opportunities. For fourth-year evening student Rebekah Green, the evening program allowed her to take on new challenges. Recently, she took the opportunity to reflect on her time at Catholic Law and the ways in which it has prepared her for a career in law.
Green began working as a paralegal as an undergraduate student at Mary Baldwin University in Staunton, Virginia. Following graduation, she decided to continue that work—during which time, she was exposed to a myriad of legal fields. "I've worked in a variety of areas of law, including family law, criminal, personal injury, workers' compensation, real estate, land use, and civil litigation." Green worked at the firm for several years before a conversation with one of the attorneys there set her on the path towards a JD. "One of the attorneys I worked with several years ago asked me why I didn't go to law school because I was capable of doing more. It planted the seed, and I realized that I wanted to do more substantive work."
Resolved to earn her law degree, Green found Catholic Law was the right fit for her. Not only would the thriving evening program provide her an opportunity to work while studying, but she felt the small community would also provide a sense of support from faculty, staff, and her peers. Green shared, "I liked the tight-knit community." The convenient parking on the beautiful campus didn't hurt either.
As an evening student, Green's schedule has been full right from the start. However, even with her job and course load, she hasn't shied away from an added challenge. After using her first two years at Catholic Law to figure out the balance between working full-time and managing classes, Green entered her third year with confidence in her ability to make other activities fit. She joined the Catholic University Law Review in the 2020-2021 academic year, and this year she has stepped into the role of Editor-in-Chief. Green is now one-half of the evening student duo leading the Law Review this year (fourth-year Lauren Irish is Executive Editor).
In the nearly three and a half years Green has been at Catholic Law, she has also recognized the importance of maintaining a sense of balance and finding time to take care of herself. "I have been so lucky to be surrounded by some of the best family and friends. My brother also worked full-time and went to law school part-time, so I can always reach out to him when things get tough. I also love spending time with my three dogs. They can always alleviate stress. Additionally, I always find some time for self-care."
As she draws closer to graduation this coming May, Green also expressed gratitude for her law school experience. "I have loved my time at Catholic Law. Each year I continue to be impressed by the dedication of the faculty and staff. Dean Crowley and Dean Schept are always amazing and go above and beyond to help students out. Everyone wants students to excel and does their best to ensure that happens. I am incredibly grateful for my time here at Catholic."