February 08, 2022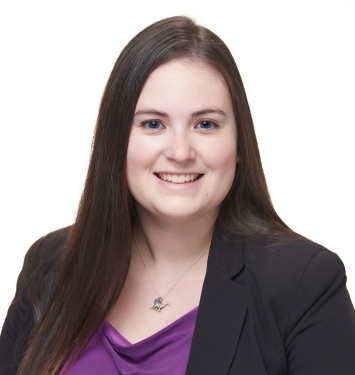 Catholic Law recognizes the importance of hands-on training and is dedicated to producing practice-ready graduates. With an extensive array of hands-on opportunities to explore, Catholic Law students develop the necessary skills to be successful in the law profession. This approach to legal education resonated with third-year law student Frankie Orrico when choosing a law school three years ago. Now, as she prepares for the next chapter in his legal career, she took a moment to reflect on what his Catholic Law experience has meant to her.
A native of the Seattle, Washington area, Orrico moved to D.C. for undergrad to attend American University. While there, she earned a BS in Economics and a BA in Foreign Policy/National Security. Following graduation, Orrico decided to stay in D.C. "I became interested in doing civil rights, specifically criminal justice litigation, after working at a private law firm in D.C. as a paralegal."
In the several years she spent as a paralegal, Orrico worked on both transactional and litigation work and fell in love with working on litigation. She decided to pursue that interest in law school. "I came to law school knowing that I wanted to work in a courtroom on criminal justice issues regularly." When it came to choosing a school, Catholic Law quickly rose to the top of her list. I was interested in attending a law school here in D.C. I choose Catholic because of the school's commitment to public service and involvement in the anti-death penalty movement."
During her time at Catholic Law, Orrico has been particularly committed to pursuing her practical education. In addition to her full course load, she has sought out several intern- and externships that align with her interest in criminal justice issues. Orrico has interned at three different public defender offices in the D.C. area—DC Public Defender Service, Virginia Indigent Defense Commission in Leesburg, and the Federal Defenders of Eastern Virginia. "For me, getting to work while at school allows me a practical way to apply what I am learning in the classroom while also being able to make a real impact in someone's life who is facing criminal charges in our court systems. My experiences in these offices have been some of my best memories from law school."
Orrico has also pursued multiple co-curricular opportunities as a way of honing her practical legal skills—learning to think and act like a lawyer. As a 2L, she became a staff editor on The Catholic University Law Review as a staff editor as well as a competing member of the Moot Court Association. Now, as a 3L, she returned to both activities in leadership roles. She currently serves as a production editor on Law Review and as the Chancellor of the Moot Court Association.
With classes, internships, high-demand co-curricular activities, and a pandemic on top of it all, law school can be stressful. Orrico has found ways to maintain a sense of balance while juggling all of it. "Especially being in law school during COVID, I have found that exercising, cooking, and baking have really helped me to maintain balance in my life. I make sure that I set aside time for myself to work out in the morning. And in the evening, I set aside time for myself and my husband to cook dinner together."
As she enters her final semester at the Law School, Orrico is grateful for her experience at Catholic Law. She concluded, "I have treasured my time at Catholic Law, and I am very glad that I found this community of people."