March 21, 2019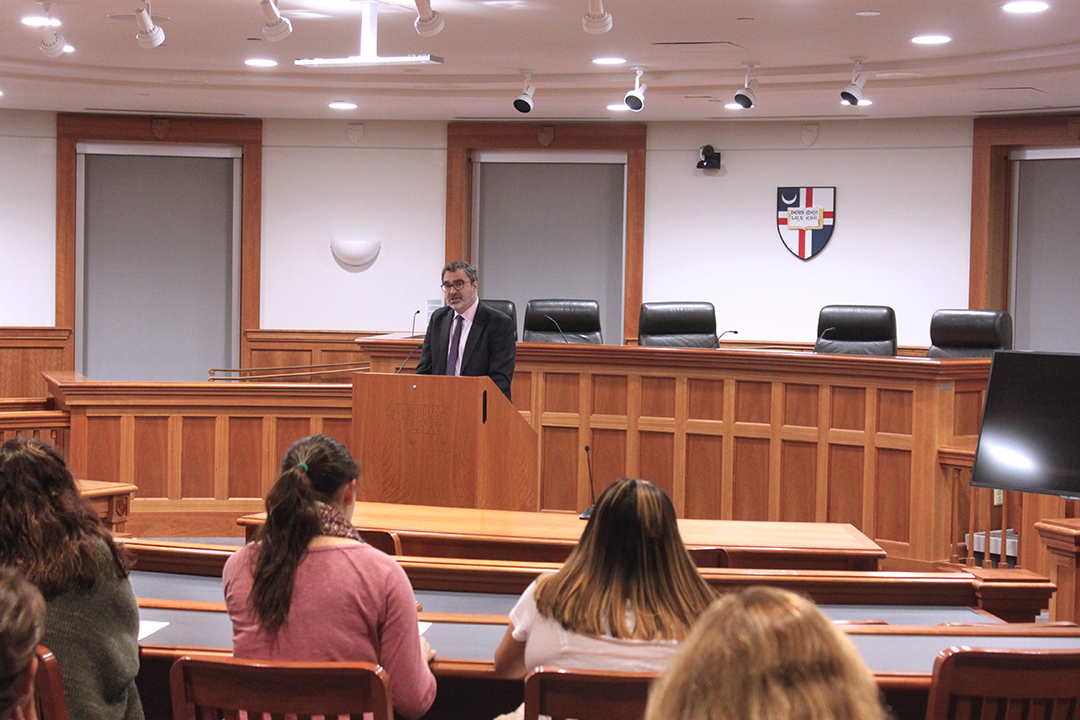 "The responsibility to welcome refugees falls upon each one of us, and lawyers have a special responsibility. It takes lawyers to protect the human rights of refugees and never have refugees needed protection as badly as they do now."

These were some of the powerful statements Mark Hetfield, President and CEO of HIAS, made during the Brendan F. Brown Lecture entitled "Refugees - Whose Responsibility?" on March 20, 2019.
CUA Law Dean Regina Jefferson provided welcoming remarks, while CUA Law Professor Stacy Brustin introduced Hetfield. "We are deeply honored to have Mark Hetfield here with us today. I would like to thank Professor, Stacy Brustin, Director of the Immigrant and Refugee Advocacy Clinic, for bringing such an accomplished expert to speak with us," Dean Jefferson said.

"Hetfield is passionate about HIAS' mission to help all those who flee ethnic cleansing, violence, and other forms of persecution. He has said that HIAS doesn't help people because they are Jewish but because we are Jewish. The same can be said of the many Catholic affiliated organizations, such as Catholic Charities, Catholic Legal Immigration Network, and Catholic Relief Services…It is my hope that this lecture today will open new opportunities for us at CUA University to join with organizations such as HIAS to develop compassionate and welcoming responses to immigrants and refugees seeking protection," Brustin said.

Hetfield opened his lecture by honoring the legacy of Dean Brendan F. Brown. "It is a great honor to be here today, giving a lecture in memory of Dean Brendan F. Brown. He is somebody who truly recognized the dignity of all people and the role and responsibility of lawyers in the pursuit of justice. He also recognized the role of law and the role of lawyers in rebuilding a post war world. That is a world where the entire refugee protection regime was built," he said.

Hetfield explained that a migrant is anyone who has left one place for another, but a refugee is someone who flees and crosses an international border due to persecution. He stated that there is no group more vulnerable in society than the stranger, the migrant, and especially the refugee.

"At HIAS we say there is a reason why God commanded us no less than 36 times in the Torah to welcome and love the stranger as ourselves because we were once strangers in the land of Egypt."

He described HIAS as one of the nine national refugee resettlement agencies, six of them faith based, that work in partnership with the United States government to resettle refugees as part of the U.S. refugee admissions program. HIAS also works in over a dozen countries to protect refugees where they are.

"Currently, there are over 68 million refugees and internally displaced persons, which is more than at anytime in human history. There is a global responsibility to welcome refugees. It is yours, mine, ours."

Hetfield explained that in 2018 the U.S. only resettled 67 Syrian refugees. "We continue to treat refugee crises with humanitarian assistance, like emergencies, rather than with development efforts to benefit both refugees and their host communities."

Before he took questions from the audience, Hetfield closed the lecture by urging lawyers and future lawyers to do more: "The role of lawyers in this historic battle is more important than ever, and we need you to engage in this battle...We need more help from lawyers to ensure that the rights of refugees are protected and that they are not returned to countries where they will be harmed."

Hetfield was appointed President and CEO of HIAS after a 30-year career, much of it served at HIAS, most recently as the agency's senior vice president of policy and programs. An expert in refugee and immigration law, policy, and programs, Hetfield has led HIAS' transformation from an organization focused on Jewish immigrants to a global agency assisting refugees of all faiths and ethnicities. As a result, HIAS currently is a major implementing partner of the United Nations Refugee Agency and the U.S. Department of State.

After the conclusion of the lecture, students, alumni, faculty, staff, and guests were invited to a reception in the Keelty Atrium for a chance to personally speak with Hetfield.