August 15, 2019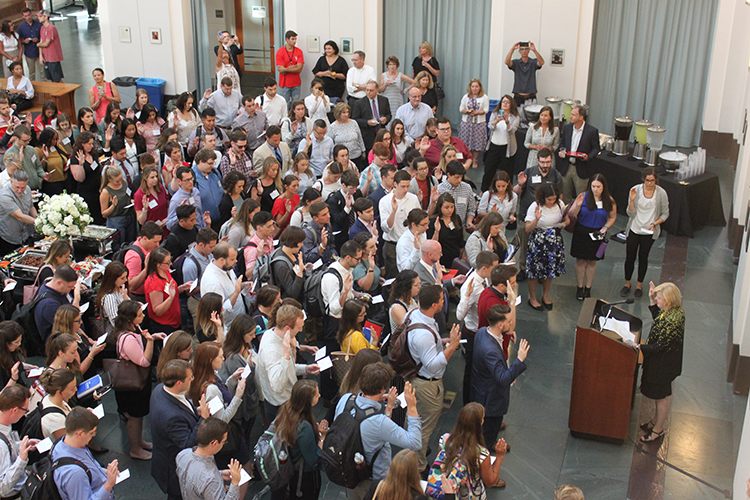 For the sixth year in a row, students within the entering 1L class were asked to recognize their future role as lawyers and public citizens with a "special responsibility for the quality of justice," (as stated by the Model Rules of Professional Conduct) by reciting a short "induction" pledge, administered by the Honorable Colleen Kollar-Kotelly '68, United States District Court Judge.
From 1969 to 1972, Judge Kollar-Kotelly was an attorney in the Criminal Division of the U.S. Department of Justice and then served as the chief legal counsel to Saint Elizabeths Hospital until 1984. She was appointed by President Ronald Reagan as an Associate Judge of the D.C. Superior Court in October 1984, and served as Deputy Presiding Judge of the Criminal Division from 1995 until her appointment to the federal bench.
Judge Kotelly was appointed by Chief Justice Rehnquist to serve as a member of the Judicial Conference Committee on Financial Disclosure from June 2000 through May 2002, and later as Presiding Judge of the United States Foreign Intelligence Surveillance Court, where she served from 2002 to 2009.
Judge Kotelly has enjoyed an outstandingly illustrious and distinguished legal career since graduating from the Columbus School of Law. And over the course of her career, she has remained steadfastly committed to our success, and now, to yours.
Catholic Law Dean Stephen C. Payne introduced Kollar-Kotelly, who was invited to lead the induction during an evening welcome reception on August 14, held on the first evening of the two-day welcome week for new students.
Judge Kollar-Kotelly asked the students to repeat her words during the reception.
"I, [name], do solemnly swear or affirm that to the best of my ability I will be professional and ethical in all that I do as a member of the community at the Columbus School of Law; I will treat all persons whom I encounter with fairness, integrity, and civility; and I will strive to use my knowledge and skills to advance society, improve the quality of justice, and increase access to justice for all."
The induction ceremony is another reminder of the strong community at Catholic Law, as the new students were joined by current students, alumni, faculty, and staff. The new students were also encouraged to invite family and friends to be there for the ceremony. Some had been to the Law School on visits during the decision process, but for others it was their first time in the atrium of the Law School. The support students receive from the Catholic Law community, and their family and friends, is key to their success.