October 16, 2019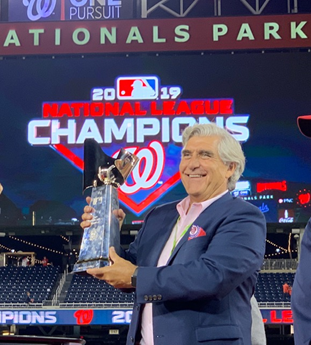 Arthur N. Fuccillo '78, Executive Vice President of Lerner Enterprises and Lerner Corporation and Catholic Law Board of Visitors member, was one of many celebrating the Washington Nationals first National League Pennant and upcoming trip to the 2019 World Series. Besides being a fan, he is one of the minority owners of the team.
Fuccillo had this to say about the win: "It has been very exciting to be part of the Washington Nationals Baseball Club. I have had the privilege of working with the Lerner family since 1981 in the role of legal counsel and Executive Vice President. I could not be happier for them and for every fan who has longed for a winning baseball team again in DC. The Washington Nationals are the National League Champions! Stay in the Fight!"
He is an active member of the Law School's alumni. Fuccillo most recently was the moderator of a Hot Topics in Law discussion during the 2019 Dean's Dinner for Student Scholarships. He was also one of the conveners for the 2018 Callyhan Robinson Society Induction Ceremony during the 2018 Catholic Law Reunion Weekend. His daughter, Angela Fuccillo '16, is also an alumna of Catholic Law.
Fuccillo is Executive Vice President of Lerner Enterprises and Lerner Corporation. He joined Lerner in 1981. For over three decades he has been involved in all facets of office, hotel, residential, stadium and retail planning, zoning and development with Lerner. He is active in the International Council of Shopping Centers (ICSC) and has lectured for ICSC, Urban Land Institute and on various college campuses on real estate.