October 25, 2021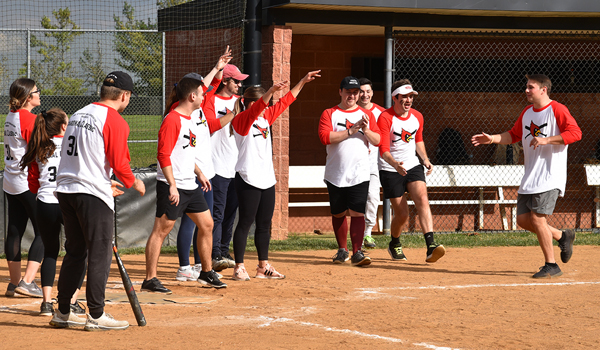 After a hiatus due to a year without the option to hold in-person events, students, faculty, and staff happily returned to the field on Saturday, October 23, for the Third Annual Cardinal Classic Softball Tournament. Members of the Catholic Law community faced off against one another on the Catholic University Softball Field while Ed Lafayette '10 and Professor Antonio Perez served as home plate umpires. Timothy Richard (3L), supported by Owen Salyers (3L), announced the play-by-play action on the field, and prior to the start of the tournament, Lola Lanlokun (3D) sang the National Anthem, followed by John Sullivan (2D) who sang the Anthem just before the championship round.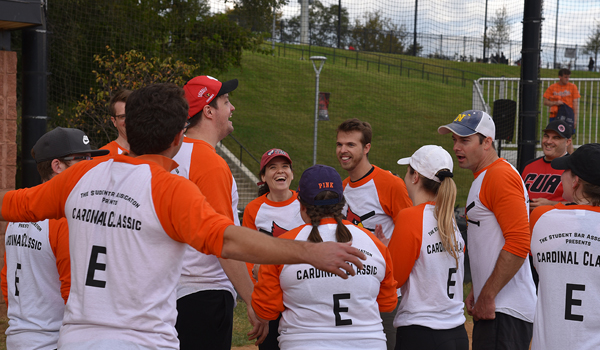 The first round of the tournament pitted 1Ls against 2Ls and 3Ls against the Evening Students. Wins for both the 2Ls and 3Ls saw them facing off against one another in the final elimination round, with the 3L team ultimately earning a place in the championship game against the faculty/staff team.
For the second time in the tournament's three-year history, the faculty/staff team got the better of the student team in a tight, one-point game against the 3Ls, hoisting the Cardinal Classic trophy once again. In his first year on staff, Craig Osborne, Assistant Dean for Finance and Administration, won the tournament MVP award for his decisive plays at shortstop and his consistent hitting.
Click here to view other photos from the event on Catholic Law's Facebook page.