October 29, 2021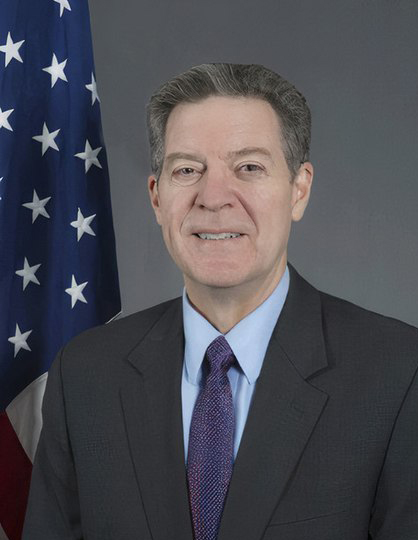 Catholic Law is excited to announce that Sam Brownback will be a Fellow for The Center for Religious Liberty (The Center) for the 2021-2022 academic year. Former Ambassador-at-Large for International Religious Freedom, Brownback continues to work with coalitions around the globe to promote and protect the fundamental human right to religious liberty. He will teach a course in international religious liberty at Catholic Law in the spring of 2022.
Brownback was the 46th Governor of Kansas. He was first elected in 2010 and re-elected in 2014. He left office after being confirmed to the position of Ambassador-at-Large in January 2018.
Prior to becoming governor, Brownback served in a number of elected government offices in Kansas. After one term in the House of Representatives, he served as Senator for Kansas from 1996-2011, having first won a special election to fill the seat left vacant by Bob Dole (R). Brownback began his political career in 1986 when he became the youngest individual to be the Secretary of Agriculture in the state's history. During his tenure as Secretary, Brownback did double duty as a White House Fellow under the administration of George H.W. Bush.
Brownback is a licensed attorney, having graduated from the University of Kansas School of Law.
The Center is an academic center dedicated to the study and articulation of the Catholic approach to religious liberty as a fundamental human right for all persons, regardless of faith. This right is recognized by the United States Constitution, the Universal Declaration of Human Rights, and the Church's teaching in Dignitatis Humanae.