March 30, 2022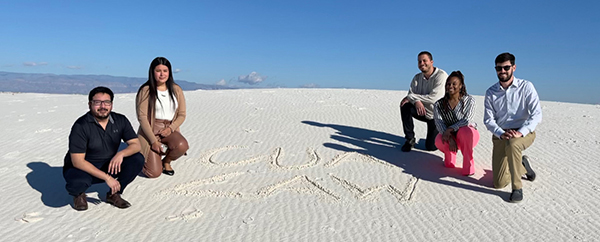 Over Spring Break, Professor Stacy Brustin, Director of the Immigrant and Refugee Advocacy Clinic (IRAC), and five Catholic Law students dedicated their week to volunteering with Catholic Charities of Southern New Mexico. Catholic Charities of Southern New Mexico is located approximately 40 miles north of the Mexico border. With a small staff, they are the only non-profit providing immigration legal services in the entire southern half of New Mexico. Over the course of the week, the students provided pro bono legal services, met with local community engagement leaders and immigration specialists, and visited the surrounding area. Brustin was proud of the group's hard work. She commented, "The law students jumped right in and dedicated themselves to working hard, learning from experts on the ground, asking tough questions, and reflecting on the role lawyers play in these critical advocacy efforts. It was an experience that fueled our collective determination to advance justice for immigrants."
The students involved also shared their reactions:
Emani Johnson (1L) "It was a pleasure to do pro bono work at the Catholic Charities of Southern New Mexico. I gained hands-on experience by composing a report on country conditions to support the firm's client cases for asylum petitioners, attending immigration court, and learning the constitutional history of the court. We had a chance to connect with other organizations in New Mexico and El Paso, Texas, who supported refugees and asylum seekers during the trip. Overall, the trip was an amazing opportunity to experience immigration law in practice, and Ms. Stacy was a knowledgeable resource to have accompanied us on the trip."
Cynthia Mora (1L) "Volunteering at the Catholic Charities of Southern New Mexico over spring break was an amazing and constructive experience as it helped me remember why I wanted to be in law school. Being given the opportunity to fill out adjustment of status applications and learning about DACA renewal forms under the direction of an accredited representative was rewarding because I was able to contribute to the process of immigrants gaining legal status. We were also able to do research on country conditions to be used for asylum cases which made our work feel meaningful. Overall, the experience broadened my understanding of immigration legal services and I had fun while learning about it."
David Korin (2E) "The trip to New Mexico was a life-changing experience. Primarily, it gave me insight into the human suffering that remains ongoing at our border. I was also able to gain an appreciation for how Catholic social teachings can be manifested in the practice of law. The most striking experience of the trip, and the one that will undoubtedly stay in my memory the longest, was our visit to Immigration Court in El Paso. I saw firsthand the importance of having representation and the disparate outcomes that it can yield. I returned from this trip feeling motivated to better understand the constitutional issues surrounding our immigration system and to get involved in pro bono work more generally."
Jerry Phillips (3L) "Our time at the Catholic Charities of Southern New Mexico was a one-of-a-kind opportunity to holistically experience the current state of affairs at our southern border with Mexico. We conducted substantive legal research for asylum applicants, sat in on immigration court, and learned from charitable organizations doing work at the border. Most importantly, we were able to experience how the rubber hits the road when it comes to legal work benefiting communities in need."
A. Thomas Moreta (3L) "I am truly blessed to have spent the final spring break of my 3L year in El Paso/Southern New Mexico. Not only have we assisted Catholic Charities of Southern New Mexico (CCSNM) in providing them with invaluable legal research, but we also attended meetings with influential people fighting for immigration reform. My group arrived at the southern border with an open mind and left with the desire to see what we can do to help in this complex area of the law. Thank you, Professor Stacy Brustin for making this trip such a memorable and life-changing experience!"