April 07, 2022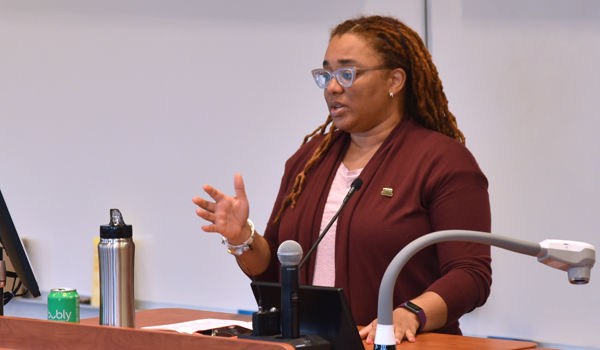 On April 6, 2022, the Black Law Student Mentoring and Leadership Program continued its mentoring and leadership event series with guest speaker, Catholic Law alumna Renée-Lauren Ellis '10. Ellis is Corporate Counsel for Amazon.com, Inc., Director of the For Love of Children Board, and serves on the Board of the Women's Bar Association of DC.
To begin the program, Professor Veryl Miles '80 welcomed the group and provided a few introductory remarks about Ellis. Miles noted, "This is a new initiative to build community, make connections, and help our students get to know one another and our wonderful alumni." She continued, "[Ellis] is such a perfect example of what makes us so proud of our law school, for many different reasons, not only because of her accomplishments but because she embraces service and volunteering her gifts and talents." She then welcomed Ellis to the podium. Ellis used her time to share advice with students based on the lessons she has gleaned from both her time at Catholic Law and throughout her impressive career. She outlined seven points, (1) your career is not linear, and that's ok; (2) you'll make mistakes, and that's ok too; (3) ask for help; (4) develop hobbies and interests; (5) join at least one diverse infinity bar that is local; (6) use your professors as a resource; (7) make sure you exercise and go to therapy. Ellis elaborated on each of these points before taking questions from those in attendance.
For updates and information regarding the Black Law Student Mentoring and Leadership Program, please visit the News and Events page.