April 14, 2022
On the afternoon of April 12, Professor Stacy Brustin, Director of the Immigrant and Refugee Advocacy Clinic (IRAC), and several of the Catholic Law students who dedicated their spring break to volunteer with Catholic Charities of Southern New Mexico hosted a program, "Reflections from El Paso & Juárez - The Human Impact of U.S. Border Policy" to share their work with the Catholic Law community and offer some reflections on the experience.
Brustin welcomed attendees and noted, "The reflections part is really important because one of the things that the Law School has afforded me and the students the opportunity to do is not just work on critically important cases, but to actually be able to travel to the border between El Paso and Las Cruces, New Mexico, that border with Juárez, Mexico, to be able to do legal services work and to spend time with advocates on the ground — learning about their efforts, their struggles, their challenges, and their success. Because the Law School has provided this opportunity, it allows the students and me to come back with a very different perception of what the immigration situation is currently in the U.S. — particularly from the southern border — and also, to have a more human focus [...] we know what the human impact is."
Jerry Phillips (3L), Cynthia Mora (1L), Emani Johnson (1L), and David Korin (2E) (virtually) then provided a broad overview of the trip and shared specific examples of the work they engaged in with Catholic Charities of Southern New Mexico, The Hope Border Institute, Lutheran Family Services Rocky Mountains Refugees and Asylum Program, El Paso Immigration Court, and International Rescue Committee. The students offered insight about the borderlands region and how policy has changed the area in recent decades.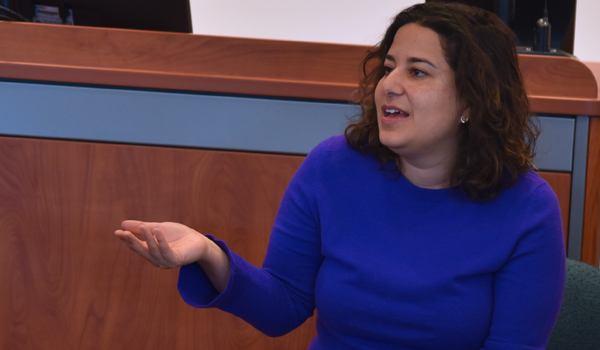 In the remaining time, Tania Guerrero, a Project Attorney for Catholic Legal Immigration Network (CLINIC), spoke about her work directing the Estamos Unidos Asylum Project in Juárez, Mexico, for the past two years. Estamos Unidos stemmed from collaborations with similar border projects and a recommendation from CLINIC's Board of Directors to expand support of asylum seekers at the U.S.-Mexico border. The location, Ciudad Juárez, was chosen strategically because of its proximity to the El Paso sector, which had seen the fastest implementation of Migrant Protection Protocols, or MPP, and metering, yet lacked any system for legal support or the infrastructure to support it. Prior to joining CLINIC, Guerrero was in private practice. Her work focused on deportation defense litigation, affirmative and defensive asylum, family-based petitions, and humanitarian relief, including Special Immigrant Juvenile Status matters. After her presentation, Guerrero answered questions from students in attendance.