February 10, 2020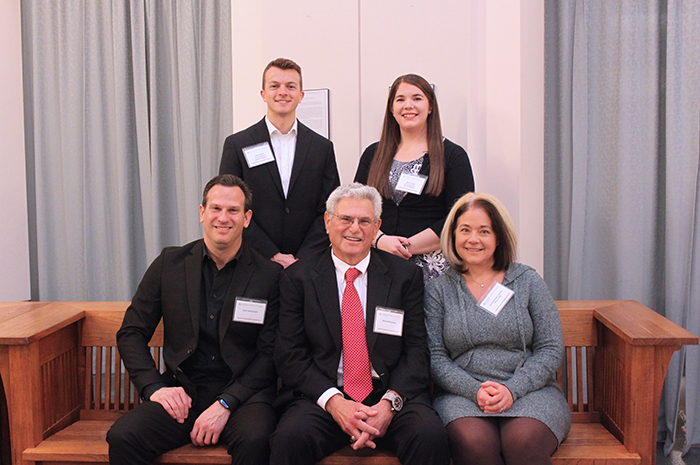 On the morning of February 7, members of Catholic Law's Students for Public Interest Law (SPIL), faculty, and staff joined the Weissman family—Marty Weissman, Scott Weissman, and Carol Weissman Anguilla '94—for breakfast and to chat about the work they have done through the Eric D. Weissman Endowed Scholarship Fund. 
The Eric D. Weissman Scholarship Fund was created by the Weissman family as a way to carry on the name and legacy of Eric Weissman '94 after his unexpected passing. The fund provides a summer stipend for students interested in public service internships for non-profit organizations, academic institutions, and government agencies. The scholarship provides a unique opportunity for a student to develop a lifelong professional commitment to public service, provides superior practical experiences for Catholic Law's lawyers-in-training, and expands the capacity of local attorneys to provide high-quality legal services to underrepresented individuals and groups.
The scholarship memorializes and carries on the work of Eric by encouraging our brightest students to work in meaningful positions in the public service sector. Students who receive public service stipends at Catholic Law are instilled with a passion and dedication to service that goes beyond their time as students—29 percent of alumni work in the public sector. 
This year, three Catholic Law Students received funding through The Weissman Scholarship Fund: April Currey (3L), Patrick Hall (2L), and Kelsey Vincent (3L).
Currey interned with the Montgomery County State's Attorney's Office in the Felony 1 Division. She worked with the attorneys in her office to help prepare felony cases for jury trials in Montgomery County Circuit Court. Currey found several opportunities to speak with victims and victims' families about their experiences and to see the impact of the trial through their eyes.
Hall had the opportunity to serve as a judicial intern for The Honorable Julie H. Becker at the Superior Court of the District of Columbia. Under the supervision of Judge Becker and her clerks, Hall researched, wrote, and cite-checked legal memoranda related to her Juvenile and Domestic Relations calendar. Because of the funding he received, Hall was able to develop his skills in legal research and writing, and found many rewarding moments throughout the internship.
Vincent interned at the Environmental Protection Agency (EPA) in the Office of Enforcement and Compliance Assurance (OECA), specifically working on the Comprehensive Environmental Response, Compensation, and Liability Act (CERCLA). Vincent began her work with the department during the 2019 Spring Semester and was able to continue her work through the scholarship fund. Her time spent at the EPA in the spring and summer reinforced Vincent's commitment to environmental work.
Click here to learn more about the students' internship experiences.