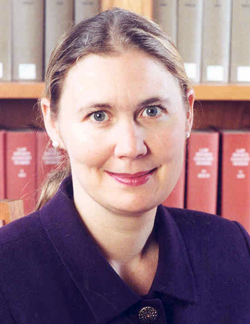 Susanna F. Fischer, Director, International Human Rights Summer Law Program in Rome, Italy
Associate Professor of Law
The Catholic University of America 
fischer@cua.edu
Susanna Frederick Fischer has practiced law on both sides of the Atlantic, as a New York attorney and an English barrister. Her primary areas of practice and her main research interests are copyright law, art law, media law, cyberlaw, and constitutional law, from a comparative law perspective.

Professor Fischer received her legal education at Merton College, University of Oxford, where she received a B.A. in jurisprudence, and the University of Virginia School of Law, where she was awarded the LL.M. degree. She also studied at Princeton University, where she earned an A.B. in history, magna cum laude.
She practiced for five years as a barrister in London, England, at 5 Raymond Buildings (currently headed by Desmond Browne QC and Matthew Nicklin QC). She represented clients before all levels of English courts and tribunals, including the House of Lords. In London, she also worked part-time as a Night Lawyer providing pre-publication legal advice for News International plc, the publishers of The Times, The Sunday Times, and the Sun. She also taught Contracts at London Guildhall University. She later spent three years practicing intellectual property law as an associate at two New York City law firms, Skadden, Arps, Slate, Meagher & Flom LLP and Paul, Hastings, Janofsky & Walker LLP.

Professor Fischer joined the faculty of Columbus School of Law in 1999, where she teaches or has taught copyright law, art law, entertainment law, introduction to intellectual property law, international intellectual property law, constitutional law, comparative law, comparative constitutional law, and civil procedure. She has taught courses on intellectual property law in Krakow, Poland, for the American Law Program jointly run by the Columbus School of Law, The Catholic University of America and the Jagiellonian University, as well as for the summer program in International Business and Trade held at the Jagiellonian University. She has also taught a summer course at the University of Lisbon in Portugal.

She served as the native English language consultant for a translation of the Polish Civil Code into English, published by Wolters Kluwer Polska in 2012.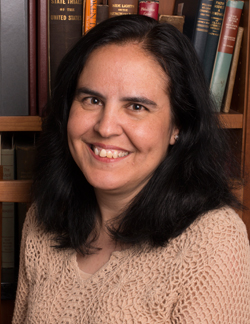 Professor Lucia Ann Silecchia, Assistant Director, International Human Rights Summer Law Program in Rome, Italy
Professor of Law
The Catholic University of America
silecchia@law.edu
Professor Silecchia has taught at Catholic University's Columbus School of Law since 1991. She has been an ordinary professor since 2004, and served as the law school's Associate Dean for Academic Affairs in 2004 and 2005. She also directs Catholic University's Summer Law Program in Rome. From September 2015 to August, 2017, she served as Catholic University's Vice Provost for Policy.
In December, 2016, she began service as an Expert to the Permanent Observer Mission of the Holy See to the United Nations. Since the fall of 2016, she has also been a Faculty Fellow and Academic Advisory Group Member of Catholic University's newly established Institute for Human Ecology.
Professor Silecchia received her B.A. degree summa cum laude from Queens College (C.U.N.Y.) and her J.D. from Yale Law School where she was a Francis Coker Teaching Fellow, senior editor of The Yale Law Journal, and current topics editor of The Yale Law & Policy Review. After law school, she was a litigation associate at Rogers & Wells (now Clifford, Chance) in New York City.
During her 2000-2001 sabbatical, she spent the fall semester as a Visiting Scholar at Yale Law School and the spring term in Rome conducting research on environmental ethics issues from the perspective of Catholic social thought. Her 2007-2008 sabbatical saw travel to Poland, Belgium, the Netherlands, Luxembourg, Australia, New Zealand, Austria, Portugal, Spain, and Italy.
Since December 2016, she has volunteered as an Expert to the Permanent Observer Mission of the Holy See to the United Nations assisting on matters related to ecology, the elderly, and people with disabilities.
In April 2007, Prof. Silecchia was one of nine Americans to participate in a Vatican conference on Climate Change and Development, organized by the Pontifical Council for Justice and Peace. She has participated in the Association of Religiously Affiliated Law Schools, and hosted the 2008-2009 Conference on Catholic Legal Thought.
Professor Silecchia has written in the areas of environmental law and ethics, elder law, Catholic social thought, legal education, law and literature, and legal writing. She has presented at national and international conferences for legal educators, law librarians, lawyers, religious groups, students, and environmental professionals. She has also participated in projects of the Pontifical Council on Justice and Peace and the Environmental Justice Project of the U.S. Catholic Conference; assisted the American Bar Association's CEELI Project in critiquing draft business association laws for Estonia; taught in Catholic University's cooperative programs at Jagiellonian University in Cracow, Poland; and lectured in Portugal as part of Catholic University's U.S. - Portuguese Law Initiative at the University of Lisbon.
She provides commentary to television, radio and print media outlets on matters related to religion, environmental ethics, elder law, and Catholic social thought.
She was named one of three national "Persons of Distinction" by the Association of Legal Writing Directors and was Catholic University's "Mirror of Justice Scholar" in 1996. She has also been a member of the teaching faculty for international law students in the Washington D.C.-based Institute for United States Law.
Professor Silecchia is admitted to the bars of New York, Connecticut, the District of Columbia, and the Supreme Court of the United States.
In 2015, she received the Distinguished Alumna Award from the Queens College Political Science Department for teaching that "prepares your own students to combine faith with a passion for justice."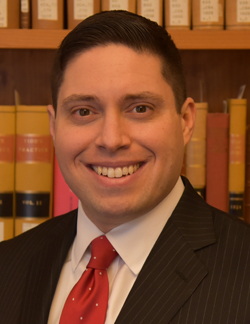 J. Joel Alicea
Professor of Law School
aliceajj@cua.edu

Joel Alicea joined the Catholic Law faculty in 2020 after having practiced law for several years at the law firm of Cooper & Kirk, PLLC, where he specialized in constitutional litigation. He previously served as a law clerk for Justice Samuel A. Alito Jr., on the United States Supreme Court and for Judge Diarmuid F. O'Scannlain on the United States Court of Appeals for the Ninth Circuit.
Professor Alicea's scholarship has focused on constitutional theory. His scholarship has appeared, or is forthcoming, in the Virginia Law Review, Notre Dame Law Review, University of Pennsylvania Journal of Constitutional Law, and the Harvard Journal of Law & Public Policy, among other publications. He has also been active in public debates about constitutional law, publishing essays in journals such as National Affairs and The Public Discourse.
Professor Alicea graduated cum laude from Harvard Law School in 2013 and summa cum laude and Phi Beta Kappa from Princeton University in 2010.
Professor Alicea is a Fellow at the Columbus School of Law's Center for Religious Liberty and a Nonresident Fellow at the American Enterprise Institute. He is the Director of the Hispanic Student Mentoring and Leadership Program.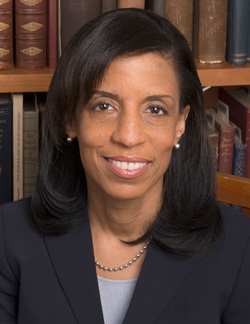 Regina T. Jefferson
Professor of Law School
jefferson@law.edu

Regina T. Jefferson is a nationally recognized authority on pension law, employee benefits, and tax law. In addition to teaching and producing a rich body of scholarship in these areas, she has been actively involved in the policy development of these fields. She has testified before Congress and briefed Congressional staff on employee benefits and tax topics. Professor Jefferson also was a delegate to the First White House Summit on Retirement Income Savings. In 2015, she was appointed by President Obama to the Pension Benefit Guaranty Corporation's Advisory Committee for a three year term; and then in 2019 she was reappointed by President Trump for a consecutive three year term. She also currently serves as an expert on taxation to the Permanent Observer Mission of the Holy See to the United Nations.
Professor Jefferson joined the CUA faculty in 1992. She has served as the Dean of the Law School from July 1, 2018, through June 30, 2019, and also served as Associate Dean for Academic Affairs in 2000 and 2001. Prior to joining the faculty, she was a Tax Law Specialist at the National Office of the Internal Revenue Service in the Employee Plans Division, where she specialized in qualified employee plans. From 1990 through 1992, she was a teaching fellow in the Graduate Teaching Program for Future Law Professors at Georgetown University, where her research and teaching focused on the tax aspects of private pension plans. Before attending law school, Professor Jefferson worked in the pension actuarial field.
Professor Jefferson's scholarship focuses primarily on employee benefits and tax law. She has written extensively on the re-distributional impact of the private retirement system, the confluence of pension and tax law, the tax and actuarial aspects of the funding limitations of defined benefit plans, and the risks of defined contribution plans.
Professor Jefferson was selected as a Fellow in the American College of Employee Benefits, and the National Academy of Social Insurance. She is a member of the Pension Rights Center Board of Directors and the Institute on Retirement Security Academic Advisory Board. She also is a former chair of the Employee Benefit Section of the Association of American Law Schools.

Professor Jefferson earned a B.S. degree in mathematics from Howard University, a J.D. degree from George Washington University, and an LL.M. degree from Georgetown University.