October 07, 2020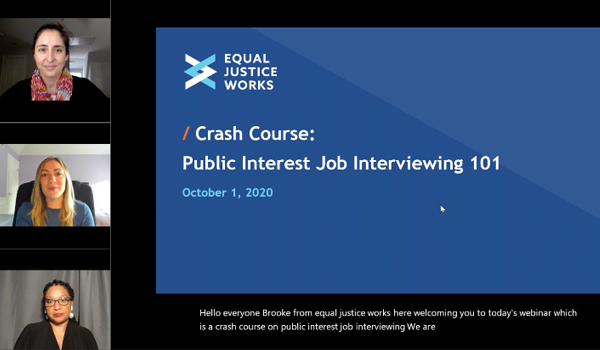 On October 1, 2020, law students and law school professionals across the country were invited to a webinar hosted by Equal Justice Works, featuring Tonya Gaskins '03, Assistant Dean of Catholic Law's Office of Career and Professional Development (OCPD), and Kiva Zytnick, Associate Director, Pro Bono Program & Public Interest Law in OCPD.
As part of the "Crash Course: Public Interest Job Interviewing 101" webinar, Dean Gaskins and Zytnick discussed how students should prepare for virtual interviews with public interest employers. They also focused on what students should highlight during their interviews and how to structure responses to interviewer questions. View the recording for free here.
The "Crash Course" webinar is part of a series of resources for students participating in the 2020 Equal Justice Works Conference & Career Fair, the largest national public interest career fair with more than 1,400 law students from over 150 law schools participating. This year's Fair will be virtual and open to all students. Click here to register and for more information.