November 08, 2021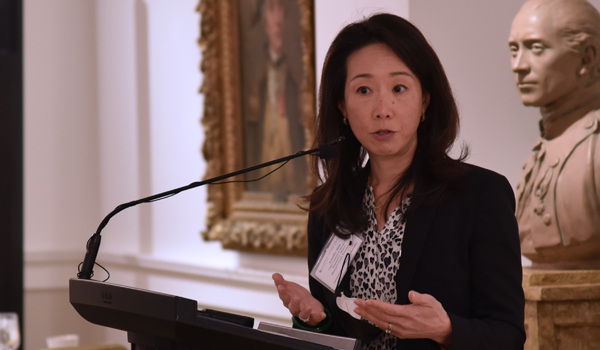 Catholic Law's Securities Law Program, under the leadership of the newly appointed Program Director and Adjunct Law Professor Jack W. Murphy, held its 38th Annual Securities Law Luncheon on Thursday, November 4—returning to The Army and Navy Club in downtown Washington, D.C., after being held virtually in 2020. The eager group of current securities students, securities law graduates, and several members of the securities adjunct faculty, along with Murphy and guest speaker Jennifer W. Han, Chief Counsel & Head of Regulatory Affairs for the Managed Funds Association, mingled together in the welcoming hall—enjoying time together after so much distance over the last year.
As everyone settled into their seats, Jeffrey Puretz '81, Adjunct Professor for the Securities Law Program and a member of the Law School's Board of Visitors, stepped up to the podium to make a few opening remarks. He once again welcomed Murphy to the role of Program Director and noted that under his strong leadership, the program had already moved in a "directionally correct" way. Following the introduction, Murphy made a few remarks, expressing a deep sense of gratitude for the support of SLP's alumni and discussing the State of the Securities Law Program, including efforts underway to enhance the program and attract additional participants from the student body. 
Han addressed the group while everyone enjoyed lunch. She began by speaking broadly about trade associations, what they are, how they work, and the perspective they are able to offer to other organizations and government agencies. Han used the second half of her talk to speak more specifically about a few "hot topics" in the securities space. She touched upon the GameStop stock surge, digital engagement practices, and digital assets such as cryptocurrency. In the time that remained, Han answered questions from those in attendance—including questions regarding how to get involved in trade associations, the future of NFT regulation, her best guess on upcoming rule proposals coming out of the SEC, and the SEC's "technology-neutral approach."
As the luncheon drew to a close, Murphy returned to the podium to recognize three students who were selected as this year's Securities Scholarship recipients. Murphy shared that all three students were selected not only for their academic achievements but also for their commitment and enthusiasm for the Securities Law Program and the field of securities law. The recipients were third-year students Michael James (in absentia), Anthony Minute, and Daniel Hughes. Then with applause and departing hugs, the Annual Securities Law Luncheon came to a fulfilling and happy conclusion.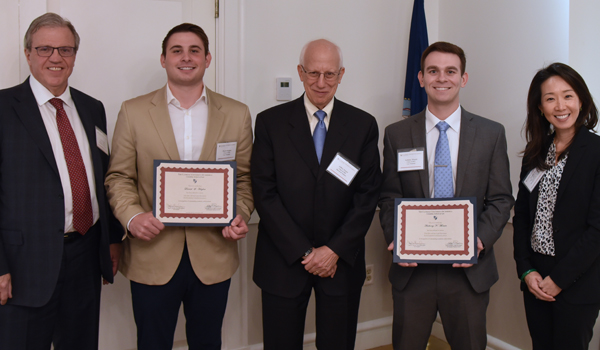 From L to R: Jack Murphy, Daniel Hughes, Jeffrey Puretz, Anthony Minute, and Jennifer Han