November 19, 2021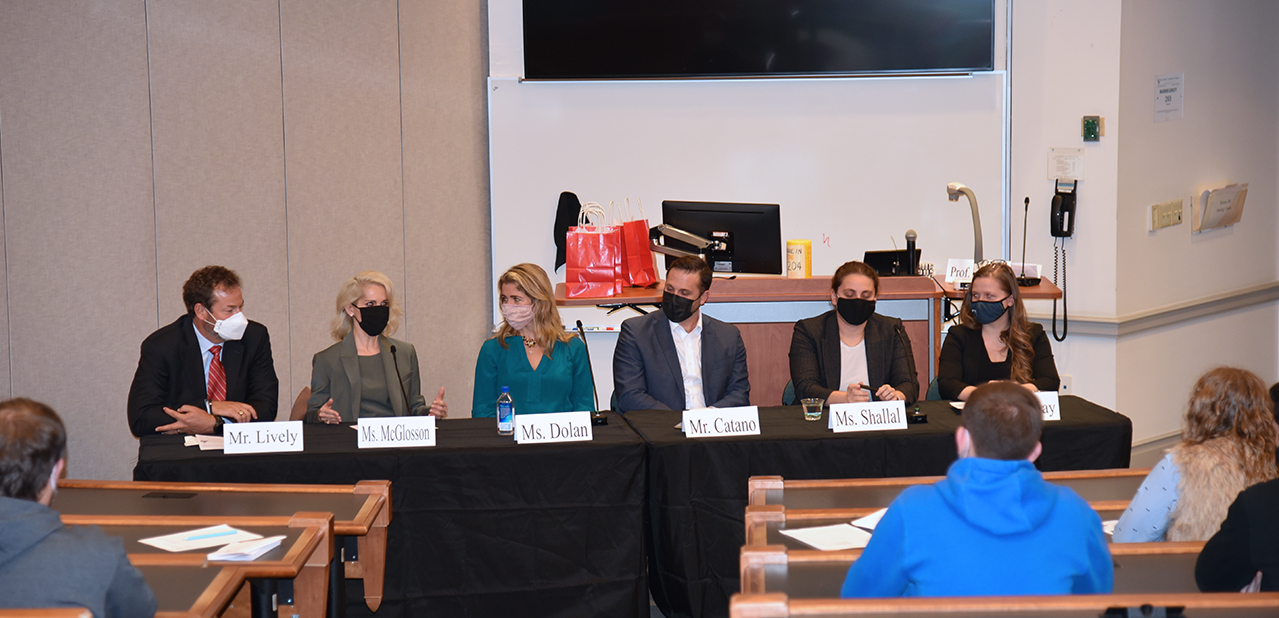 Six alumni of Catholic Law's Securities Law Program returned to campus on the evening of November 16, 2021, to participate in a career discussion panel, "Different Paths to Success," for current students at the Law School. The panelists included John H. Lively '98, Managing Partner and Founder, Practus, LLP; Christina K. McGlosson '98, Director of Capital Markets and Digital Assets, Promontory Financial; Elise M. Dolan '02, General Counsel and Chief Compliance Officer, Tweedy, Browne Company LLC; James V. Catano '11, Partner, Dechert, LLP; Nina Shallal '19, Associate, Dechert, LLP; and Jordenne McKay '20, Fraud Investigator, Financial Industry Regulatory Authority.
The panel was convened by Jack Murphy, Director of the Securities Law Program, who also moderated the event. The alumni on the panel represented an impressive array of talents and careers in securities law. The panelists discussed their career trajectories in the securities law industry and how their law school education prepared them for success. While each had their own unique path, their answers highlighted the importance of community and networking that came from their time at Catholic Law. As Ms. McGlosson so aptly put it, "The foundation you get [at Catholic Law] and the community get here, particularly in the securities law concentration, will really prepare you and open doors to little nuances of the securities practice."
The event was sponsored by the Securities Law Program and the Office of Career and Professional Development and drew a crowd of current and prospective Securities Law Program students. Following the panel, students were invited to a reception in the Louise H. Keelty and James Keelty Jr. Atrium for a chance to network and engage in further conversations with the visiting alumni.