July 20, 2021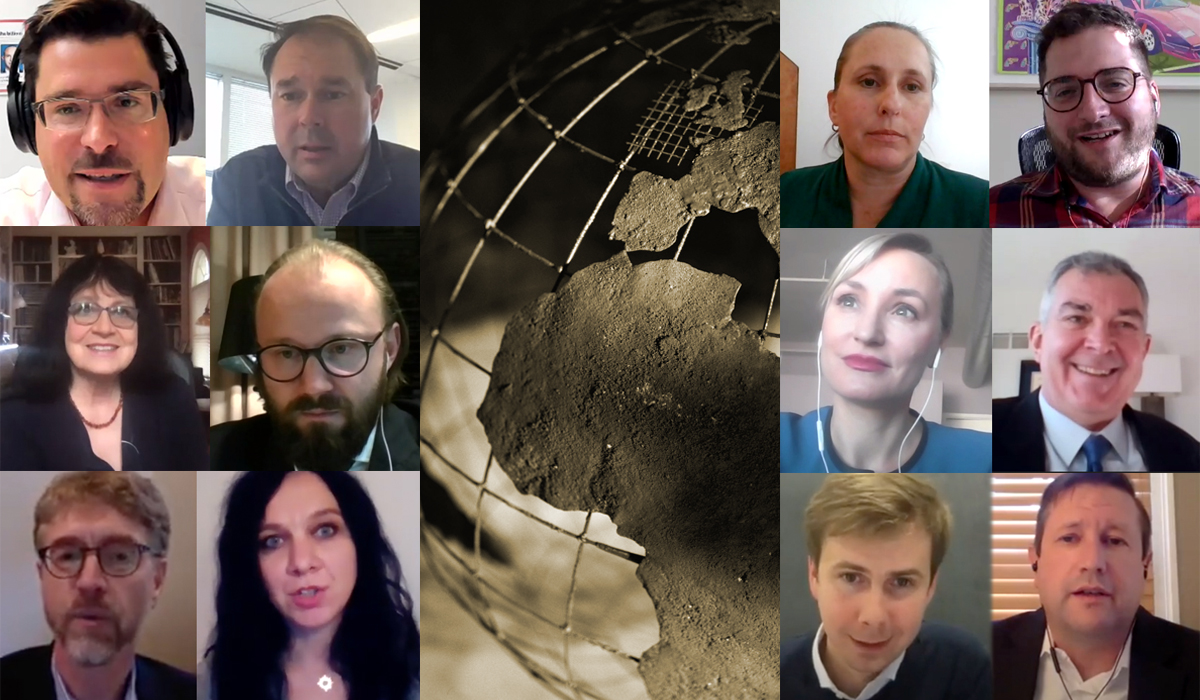 The 2020-2021 academic year was defined by unprecedented social distancing, and with the global pandemic still raging, academic programs were cast into uncertainty. As summer programs and international travel were put on hold, The Catholic University of America Columbus School of Law (Catholic Law) relied on its 30-plus year relationship with Jagiellonian University (JU) in Kraków, Poland, to deepen its strong, lasting relationship in a year that was defined by distance.
In October 2020, under the leadership of Professor Emerita Leah Wortham, Director of the American Law Program and the CUA-JU LL.M. Program at Catholic Law, Catholic Law, and its partners at JU established the Contemporary Challenges in American & Global Law web series. The bi-monthly webinars focused on some of the most pressing and timely topics challenging the international legal system today. The 16 one-hour webinars reached members of the Catholic Law and JU communities across the country and around the world—and in doing so, highlighted Catholic Law's established presence internationally, and in particular, its footprint within the European Union.
The partnership between Catholic Law and JU goes back to 1992 with the establishment of the International Business and Trade Summer Law Program (IBTSLP) in Kraków. Founded by Professor Rett Ludwikowski, IBTSLP offers US and international law students intensive training in global aspects of cross-border business and trade. The program began at a time when few American law schools were developing cooperative learning arrangements with Eastern European Universities, and it was an important step for Catholic Law's Comparative & International Law Program—bringing together students from the US, Poland, and other countries to study and learn from one another.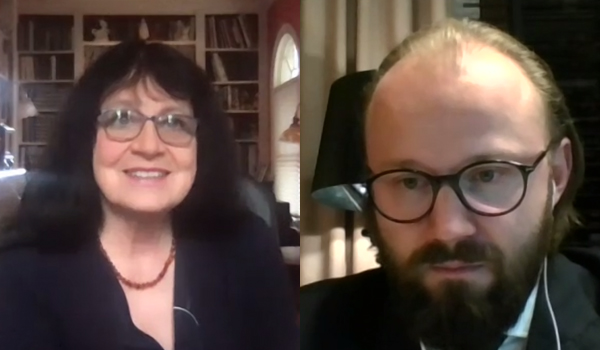 In 2001, Catholic Law's international foothold broadened with the addition of the American Law Certificate Program (ALP); further extending our relationship with JU. In 2003, the ALP, IBTSLP, and DC summer sessions were joined to offer an LL.M. program. Professor Sarah Duggin is one of the excellent expert faculty to teach in the programs. She shared, "The [programs] offer outstanding opportunities to students and faculty alike. Our students interact with peers from the United States, Poland, and a number of other countries, and they have a chance to experience hands-on the perspectives of professionals in international settings through program internships. As a faculty member, I have had the pleasure of meeting colleagues engaged in inspiring work and teaching terrific students who already have become leaders in many different fields of law." She continued, "Teaching in the American Law Program is a wonderful experience. The students are deeply engaged, and they come to class with perspectives that often differ from those we encounter in classes in the United States. Teaching in the program helped me to understand my own field in new ways and enabled me to offer new insights into teaching here in the United States."
As Catholic Law's brand continued to grow internationally, so too did opportunities to introduce an additional summer program—this time in Rome, Italy. Founded in 2010, the first summer term was offered in 2011. The International Human Rights Summer Law Program focuses on discrete aspects of human rights. Professor Lucia Silecchia, Assistant Director of the International Human Rights Summer Law Program, noted, "Some of the most profound questions facing each generation have revolved around questions of human rights—and their correlative responsibilities. The nature of these rights, their source, and their scope are among the most important questions of the social order. Sadly, both historically and in our present time, there is no shortage of examples of the violation of human rights and disrespect for human dignity, particularly with respect to those who are the most vulnerable. Fortunately, however, it has also been my observation that there are many willing to dedicate their professional careers, talents, and energy to the preservation of and protection of human rights and dignity in our fragile world. This is a task that lies at the heart of the mission of Catholic University's Columbus School of Law. Thus, it was with this in mind that we began the Program." The program also offers the opportunity for students to gain hands-on experience in human rights protection and international law by participating in legal externships in Rome.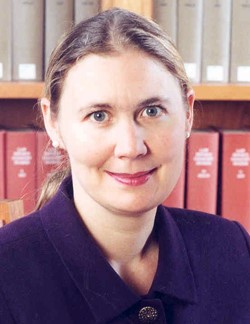 While the constraints created by the COVID-19 pandemic have made it impossible for Catholic Law's international programs to run, program directors are eager for restrictions to lift and programs to resume as normal. Professor Susanna Fischer, Director of the International Human Rights Summer Law Program shared, "We are very hopeful that the Law School will be able to offer the Rome Summer program in human rights law in the summer of 2022 after two years of postponement due to the Covid-19 pandemic. Studying abroad is an incredibly enriching experience for law students. Rome is an amazing location to explore human rights issues. Human rights were of vital interest to many ancient Roman thinkers and jurists, including Cicero, Seneca, Epictetus, and Justinian. The Roman Catholic Church has played a significant role in the development of human rights. Many international organizations are headquartered in Rome. As well as studying human rights law in the classroom, Rome program students participate in numerous field trips and can gain practical experience in externships after the end of the three-week program."
The reach of Catholic Law's J.D., LL.M., and summer law programs creates an extensive alumni network that provides support to the Catholic Law community on a global scale. Duggin observed that the programs "build a network of committed alumni who are enthusiastic about their experiences in the program and are happy to keep connected to one another, the program, and Catholic Law." She added, "Many alumni are now leaders in government and a wide variety of legal fields ranging from Big Tech to compliance to public policy and far beyond." This impressive network of alumni and the continued relationship between Catholic Law and JU is what made the Contemporary Challenges in American and Global Law series possible. The 16 webinars speakers and commentors were Catholic Law J.D., LL.M., ALP, and IBTSLP alumni as well as Catholic Law faculty.
The series created new opportunities for connection despite participants being across the country and around the world from each other. One area to benefit from the experience was legal scholarship. Professor Cara H. Drinan, Director of Faculty Research, reflected on the new opportunities for faculty to share research under the unusual circumstances of that last year: "The 20-21 academic year was a challenging one, but also an exciting one for CUA on the research front. We had tremendous engagement with our faculty and alumni during our 2020 Summer discussion series on Covid and the Law; we held monthly faculty research presentations; we hosted a Law Review symposium that drew over 100 participants, and we expanded our reach internationally by partnering with Jagiellonian University on a Contemporary Challenges webinar series. In this way, our faculty were able to disseminate their own research, while benefiting from the expertise of other scholars around the globe." As Academic Dean, Professor Mary Graw Leary also felt the impact of the Contemporary Challenges series. She added, "I found the program a wonderful example of the breadth and depth of the impactful scholarship of our faculty, alumni, and Jagellonian colleagues. So many alumni attorneys experience these programs as students and then advance into the legal profession to practice law in capacities that truly change the world."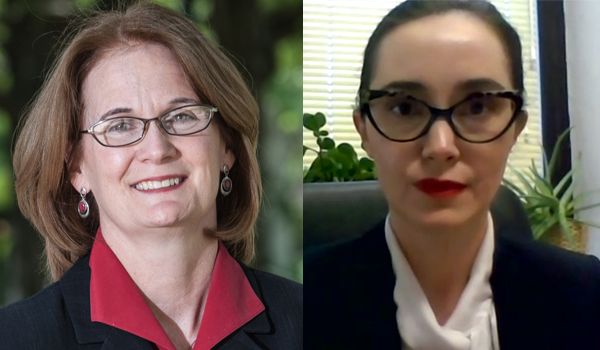 The webinars also provided meaningful opportunities for participants to connect with one another on important areas of legal practice and scholarship. Graw Leary, who was also a participant in the series noted, "I found the intellectual experience of working with an international academic very enriching. Collaborations such as these advance important legal issues by providing a more comprehensive global perspective on both the problems being addressed and the potential solutions."
Catholic Law alumnus and Board of Visitor member, Douglas Bonner '83, Partner at Potomac Law Group, also shared about his experience leading one of the discussion: "I participated as a co-speaker in the Contemporary Challenges in American & Global Law webinar series 'Data Privacy in the US: Where We Stand Today and Predictions for the Future.' This webinar drew what I understand was a record 200+ registrants, many of whom attended from Europe and were affiliated with Jagiellonian University. Our two-speaker format allowed my co-speaker Justyna Regan, Ph.D. (LL.M. 2005), a partner at Miller Canfield, and me to more broadly cover European and U.S. privacy traditions, and the regulatory approaches of the GDPR and the California privacy laws in particular. European lawyers participating actively asked questions and were quite interested in U.S. privacy developments and whether the U.S. would adopt a broad federal privacy law protecting individuals."
Having reached the conclusion of the Contemporary Challenges in American & Global Law web series, we are thankful for the longstanding tradition of partnership between Catholic Law and JU and are also grateful for the work we were able to do together this year despite the obstacles created by the pandemic. We look forward to continued opportunities to work together, especially in person, in the future.
The 16 Contemporary Challenges in American & Global Law webinars are available online. Please click the hyperlinked titles below to view.
Wirecard, Europe's Enron? – Auditor Liability to Investors in Corporate Fraud
Dr. Marc Liebscher (CUA LL.M. 2006), Partner at Dr. Späth & Partner Rechtsanwälte mbB, and Christopher D. Christian '98, Partner at Dechert
Why Compliance Matters – The Increasing Significance of the Compliance and Ethics Function in Global Corporations
Sarah Duggin, Professor of Law and Director of the Compliance, Investigations, & Corporate Responsibility (CICR) program, and Dr. Michał Rams, White Collar Team Leader for PwC
Nonprofits in Crisis: Changes to Giving Rules and Politicization
Roger Colinvaux, Professor of Law and Director of the Law and Public Policy Program (LPP), and Dr. Katarzyna Zdybska Przybysławska, President of Halina Nieć Legal Aid Center
The Cloud – A New Legal Frontier
Wojciech Jarosiński (CUA LL.M. 2011), Partner at Maruta Wachta and Paul Nagle '99, Director of International Government Relations for Alibaba
Data Privacy in the US: Where We Stand Today and Predictions for the Future
Justyna Regan, Ph.D. (CUA LL.M. 2005), senior attorney at Miller Canfield, and Douglas G. Bonner '83, Partner for Potomac Law Group
Artificial Intelligence and Intellectual Property
Megan La Belle, Professor of Law and Co-Director of Catholic Law's Law and Technology Institute (LTI), and Tytus Cytowski (IBTSLP 2001), founding partner of Cytowski & Partners
Will Covid-19 be a Force Majeure Event in Commercial Contracts? A Civil and Common Law Analysis
Vincenzo Senatore (CUA LL.M. 2010), Giambrone & Partners, and Andrew Palmieri '87, Partner at Saul Ewing Arnstein & Lehr
International Law and the New Biden Administration
Geoffrey P. Watson, Professor of Law and Director of the Comparative and International Law Institute, and dr hab. Izabela Kraśnicka, (IBTSLP 1998), Faculty of Law, University of Białystok, Poland
European Union and United States Budget-Making: Process, Politics, and Policy in a COVID-Challenged World
Katarzyna Stryjniak (CUA LL.M. 2012), Legal and Policy Officer, European Commission Directorate-General for Research and Innovation, and Karen A. Tramontano '82, Chief Executive Officer, Blue Star Strategies
How Well Did the Post-2008 Financial Crisis Regime Prepare the World for the COVID-19 Pandemic?
Heidi Mandanis Schooner, Professor of Law, and Michał Bobrzyński, (JU-CUA ALP 2005), Partner at Greenberg Traurig
The War on Kids: Progress and the Path Forward on Juvenile Justice
Cara H. Drinan, Professor of Law and Director of Faculty Research, and prof. dr hab. Włodzimierz Wróbel, Chair of Criminal Law at Jagiellonian University, and Polish Supreme Court Justice
Sustainable Investment—The New Heart of EU Financial Market Regulation
Gaspar Kot (CUA LL.M. 2012), UBS, and Chris Concannon '94, President and Chief Operating Officer of MarketAxess
Combating Gender-Based Violence: The Council of Europe Istanbul Convention Approach and the US Experience
Katarzyna Wolska-Wrona (CUA LL.M. 2005), Chief Expert, European Affairs Committee, Prime Minister's Chancellery for the Republic of Poland, and The Honorable Diane Kiesel '85, Acting Supreme Court Justice, Supreme Court, New York County, Criminal Term
#MeToo and #Black Lives Matter: Conflicting Objectives or Opportunities for Advancement of Shared Priorities?
Mary Graw Leary, Professor of Law, and dr hab. Aleksandra Kustra-Rogatka (IBTSLP 2004), Faculty of Law, Nicolaus Copernicus University Examining United States
Retirement Savings Policy through the Lens of International Human Rights Principles
Regina T. Jefferson, Professor of Law, and prof. UKSW dr hab. Elżbieta Karska, (IBTSLP 2000), Professor of Law at the Faculty of Law and Administration, Cardinal Stefan Wyszyński University
European and US Perspectives on Investment Fund Regulation
Wictor Furman (CUA LL.M. 2009), Force Advokatbyrå, and James V. Catano '11, Partner at Dechert