March 22, 2022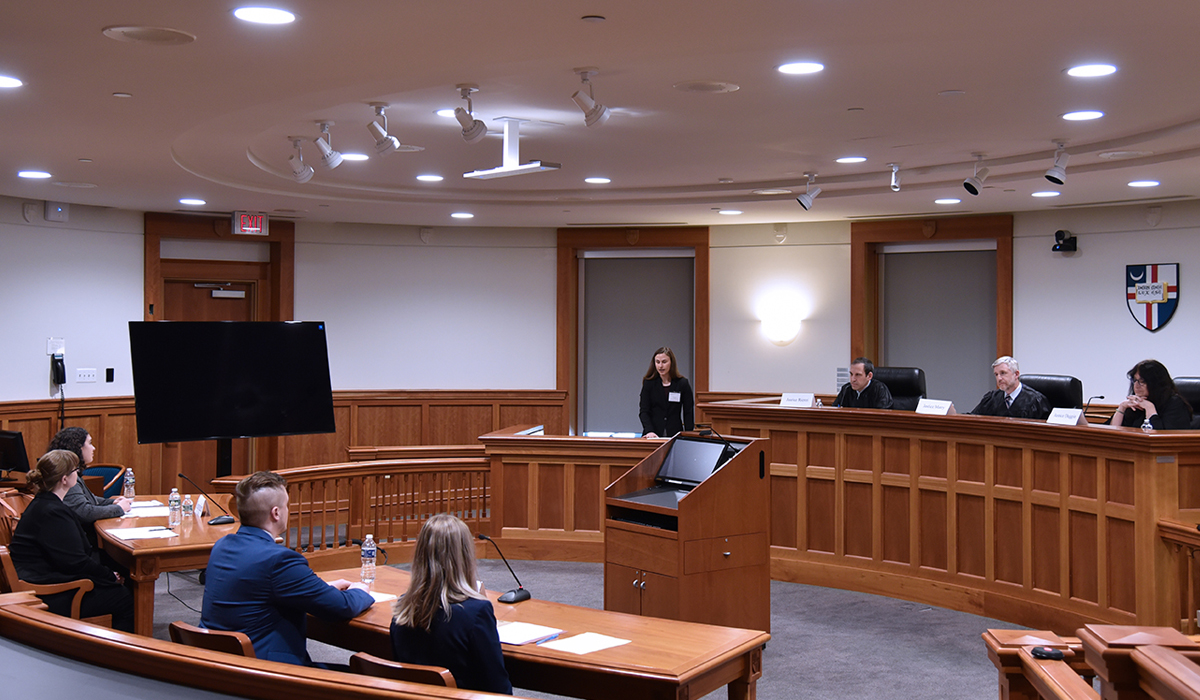 On March 18-19, nearly 140 competitors, coaches, judges, and lawyers took part in the 72nd Annual Seigenthaler-Sutherland National First Amendment Moot Court Competition, hosted by Catholic Law and co-sponsored by the Law School's Center for Religious Liberty. The 27 teams competing in the event represented 24 schools from 14 states. This year's problem — written by Seigenthaler-Sutherland Co-Coordinators Professor Susanna Fischer and Professor A.G. Harmon, as well as third-year law students Tabitha Kempf, Jesse Rains, and Timothy Richard — asked teams to examine the intersection of common carrier law, free speech protections, and free exercise protections.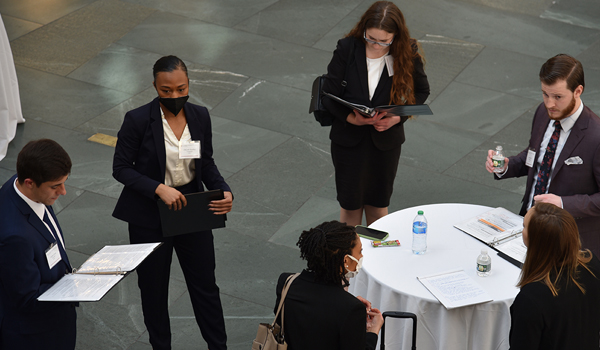 On Friday, teams competed through two preliminary rounds. At the completion of the competition on Friday, the teams and judges gathered for a reception in the Louise H. Keelty and James K. Keelty, Jr. Atrium. During the reception, Owen Salyers (3L), Vice-Chancellor of the Seigenthaler-Sutherland National First Amendment Moot Court Competition, announced which teams would go on to compete on Saturday. Saturday consisted of a quarter-final round (Q), a semi-final round (S), and concluded with the final round (F). The eight teams to advance to the second day of competition were:
American University Washington College of Law (Q) ● Liberty University School of Law (Q) ● University of Miami School of Law (Q) ● University of Mississippi School of Law (Q) ● Georgetown University Law Center (S) ● Penn State Dickinson Law (S) ● Florida State University College of Law (F) ● Michigan State University College of Law (F)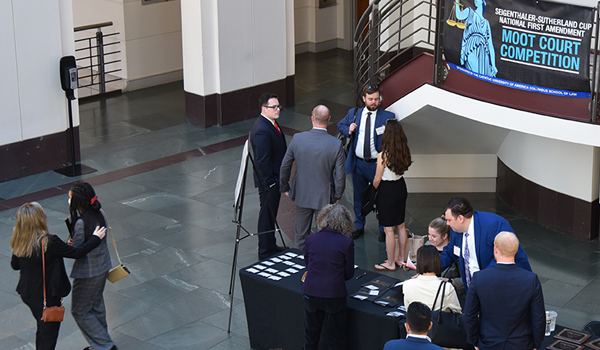 Salyers represented Catholic Law throughout the weekend and was responsible for putting together the large-scale competition that took a year of planning. Salyers shared, "I owe a deep debt of gratitude not only to our wonderful alumni and friends of the school who helped to judge this year but also to our Moot Court Association volunteers whose participation made this weekend possible." Moot Court Executive Board members Francesca Orrico (3L), Chancellor; Kerry O'Donnell (3L), Chief Financial Officer; and Thomas Archer (2L), Vice President of Analytics and Information, were also critically important in making sure that the event ran well — helping to ensure that the competition ran smoothly.
The Law School is also grateful for the 83 distinguished individuals who volunteered their time to serve as brief and oral argument judges for the event; including final round judges Sarah H. Duggin, Catholic Law Professor and director of the Compliance, Investigations, and Corporate Responsibility Program; The Honorable Paul Matey, Third Circuit Court of Appeals; and Mark Rienzi, president of The Becket Fund for Religious Liberty. Click here to view photos from the competition on the Catholic Law Facebook page.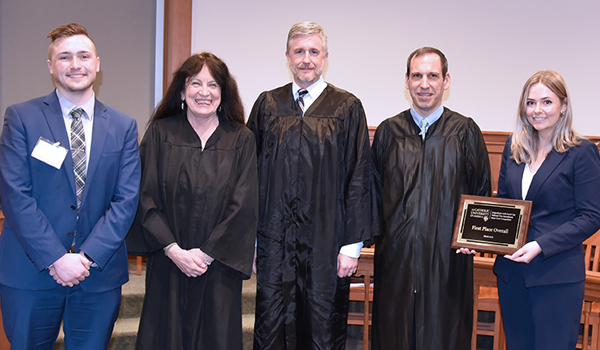 First Place Overall:
Michigan State University College of Law
Kelsey Harrington and Nikolas Spilson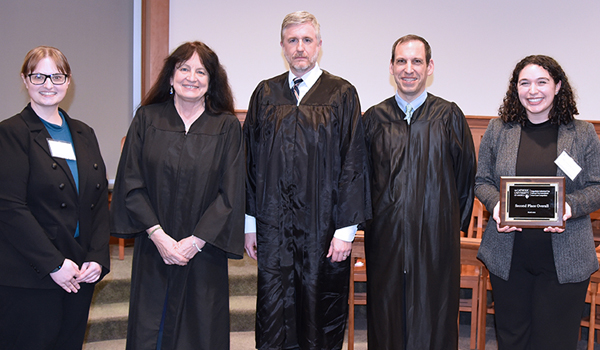 Second Place Overall:
Florida State University College of Law
Rebecca Maturo and Marissa Truskowski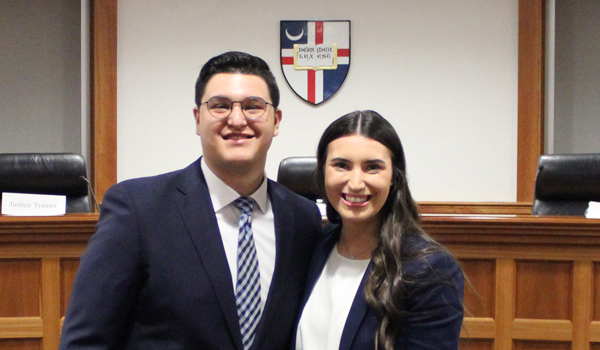 Ralph J. Rohner Award for Best Brief:
University of Miami School of Law
Jose Lopez-Varela and Lauren O'Neil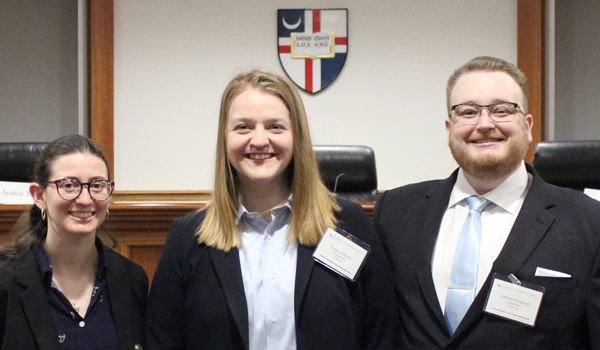 Second Place Best Brief:
Temple University Beasley School of Law
Elizabeth Grun, Krista Sonsalla, and Andrew Sheppard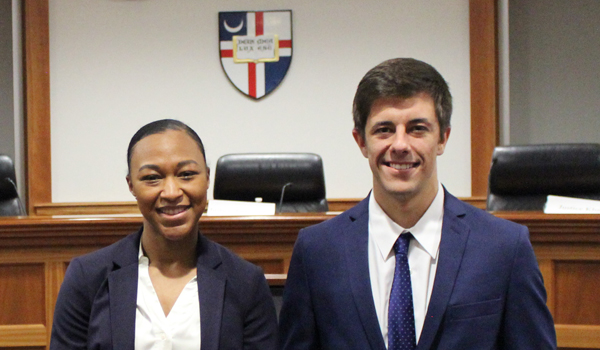 Richard G. Arnold Award for Best Oralist:
Liberty University School of Law
Zakyrah Hundley (L)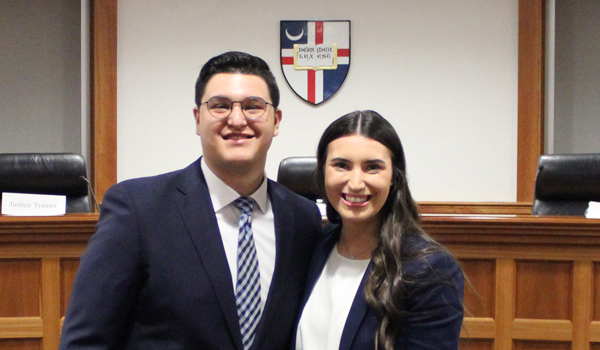 Second Place Best Oralist:
University of Miami School of Law
Lauren O'Neil (R)