April 23, 2022
First Lap Award │Vincent Miraglia Award│ Extra Mile Awards │ Marathon Awards │ Triathlon Awards │ Melissa Hamann Awards │ Mary E. Card Award │ Faculty & Staff Awards│Faculty Marshal  |  Cardinal Hickey Award │ Columbus Awards │ Joan Vorrasi Memorial Award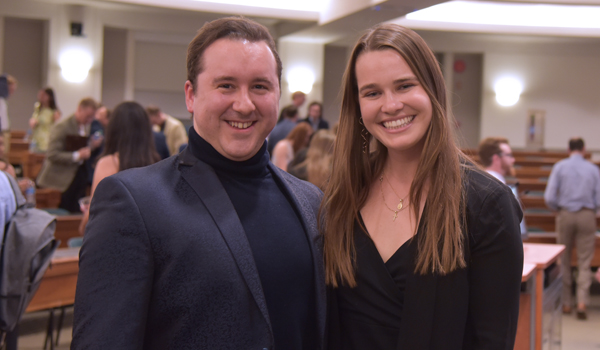 After a two-year hiatus, Columbus Awards Night and Aficionado Night were back and better than ever. The Catholic Law community eagerly gathered for the longstanding spring tradition of honoring students, faculty, and staff for their service to the law school community. The April 22 evening featured class skits, as well as awards presented for pro bono service, professional excellence, and service to the Law School (which were awarded to students, faculty, and staff). The festivities began with a reception in the Louise H. Keelty and James K. Keelty, Jr. Atrium, followed by the awards ceremony in the Rev. William J. Byron S.J. Auditorium. The evening was smoothly guided by 3L Hosts Sarah Manning and Timothy Manion.
To close out the night, evening students celebrated Aficionado Night. Sponsored by the Evening Law Student Association (ELSA) — which was originally founded by Katherine Gamelin Crowley '10, Associate Dean for Student Affairs and Dean of Students, when she was a student — the year-end fête brought together evening students of all years to celebrate the community and camaraderie of their program.
The 2022 Columbus Award Night categories and winners are listed below.