May 23, 2022
The 2022 Institutes and Special Programs Certificate Ceremony, held on May 19, in the Rev. William J. Byron S.J. Auditorium, invited graduates of the five certificate-issuing institutes, as well as their guests, to celebrate their achievements — having earned a level of subject mastery beyond that of the general J.D. curriculum.
The students recognized in the ceremony have studied in focused and enriching areas of legal practices and certification from these institutes — Comparative and International Law Institute (CILI); Compliance, Investigations, and Corporate Responsibility Program (CICR); Law and Public Policy Program (LPP); Law and Technology Institute (LTI); and Securities Law Program (SLP) — endorses recipients as specialists in their respective areas of study.
Dean Stephen Payne welcomed students, faculty, staff, and guests, sharing, "I'm so glad to see so many family members and friends joining us today, but looking around the room, it's the students who catch my eye — and boy! I don't want you to go." After the Dean's opening remarks, the directors from each program spoke with pride about this year's graduating class.
On behalf of Professor Emeritus Geoffrey Watson, Director of CILI, Professor Stacy Brustin presented the certificates to this year's CILI graduates. Speaking about the state of current events, Brustin shared, "Our recipients have chosen a good time to focus on international law."
In her remarks, Professor Sarah H. Duggin, Director of the CICR, highlighted the importance of lawyers striving to do good. She shared regarding this year's certificate earners, "I have no doubt that our CICR Certificate award winners will make the world a better place."
Speaking on behalf of the LPP, Brian Svoboda noted that Catholic Law is uniquely positioned to offer a certificate in public policy — not only because of its location in the nation's capital but also because of its mission of service. "People who come here want to focus on public service." Svoboda also presented Tabitha Kempf and Devin Lattuga with the Dulin Haynes Fellowship for their dedication to public service.
Professor Elizabeth I. Winston and Professor Megan M. La Belle, co-directors of the LTI, spoke on behalf of the institute. Of the 15 graduates from the program, they shared, "We are confident that each of you has a fruitful legal career ahead of you."
Jack Murphy, serving in his first year as Director of SLP, spoke about the drive and passion exhibited by this year's securities students. He concluded, "I've gotten to know the students very well and they are an impressive bunch."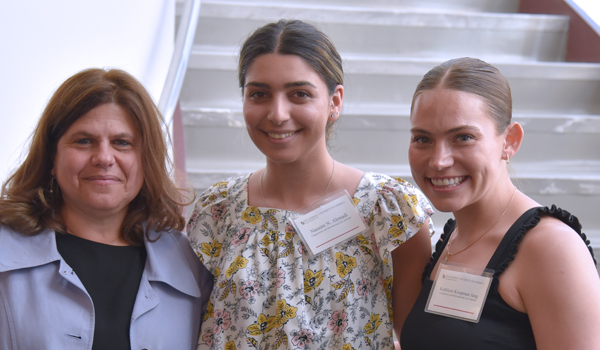 Comparative and International Law Institute
Nassim Nina Ahmadi
Kathleen Helen Koopman Jung
Ritika R. Malkani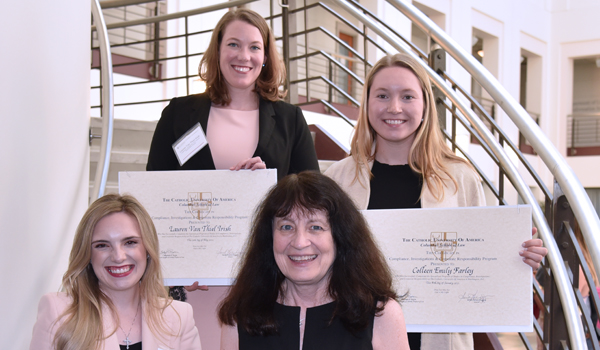 Compliance, Investigations, and Corporate Responsibility
Colleen Emily Farley*
Lauren Van Thiel Irish
Jessica Ann Russo

Law and Public Policy
Tabitha M. Kempf
Devin Ronald Lattuga
Sarah Christine Manning
Amy E. Whitsel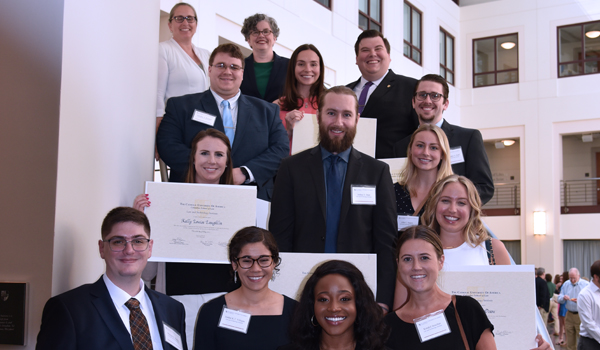 Law and Technology Institute
Sara Michele Daou
Joshua S. Dean
Meaghan Michelle Donahue
Rebecca Ware Dourmashkin
Michael B. Hadley
Christopher Andrew Huff
Joseph Charles Kane
Oluwatomilola Ifeoluwa Lanlokun
Kelly Louise Laughlin
Kerry Elizabeth O'Donnell
Timothy Armando Richard
Owen Eischen Salyers
Allie Cathryn Sauers
Kendell Strachan
Jordan Kelly Taylor Villegas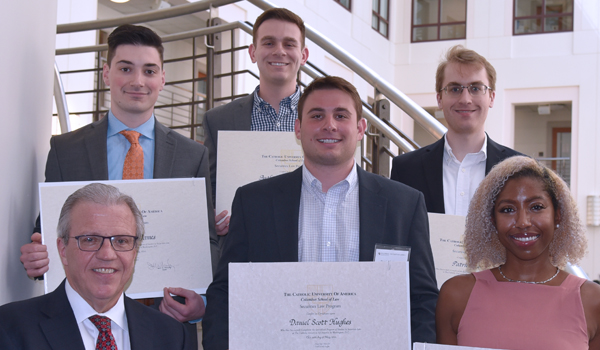 Securities Law Program
Leisel O. Greig
Daniel Scott Hughes
Michael A. James
Patrick Low
Anthony Nicholas Minute


Concentration
Karimah Yvette Janneh (LTI – IP)
*Degree conferred January 2022