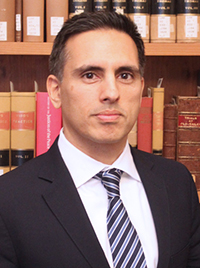 John N. Sharifi, Director
Professor Sharifi has been a faculty member at the law school since 2008 and currently teaches Evidence and Trial Practice. His scholarly interests concern criminal litigation, and his work is published in The American Criminal Law Review, The American Journal of Trial Advocacy, and the Akron Law Review. He was appointed Director of the National Trial Team in 2015. Since assuming that role, Catholic has achieved numerous distinctions in advocacy and won the national championship at the 2019 National Trial Competition. Professor Sharifi has twice been honored by the student body as Adjunct Professor of the Year.
Professor Sharifi is a former public defender and in addition to his work at the law school, he is an active criminal defense attorney. He maintains a trial and appellate practice that has included highly publicized trials and reported decisions that have helped shape criminal law. He most notably argued the landmark homicide case of State v. Jones, reversing precedent and eliminating altogether a theory of murder in Maryland.
Professor Sharifi earned an LL.M. degree from The George Washington University Law Center and a J.D. from The Catholic University Columbus School of Law. As a law student, he founded the law school's chapter of the Innocence Project and served as its first president. As a student member of the National Trial Team, he was a regional champion and national semi-finalist. Professor Sharifi is admitted to practice in Maryland's state and federal courts, the Fourth Circuit, and the United States Supreme Court.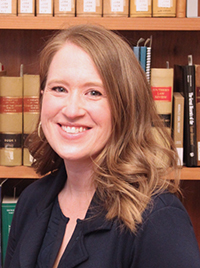 Lindsey Cloud, Associate Director
Professor Cloud has been an adjunct faculty member at Catholic Law since 2014. In addition to her work with the National Trial Team, she currently teaches Trial Practice.
Professor Cloud heads the legal training practice at KNP Communications. In that capacity, she leads presentation skills training programs at many of the country's largest law firms. Her clients include WilmerHale, Cleary Gottlieb, and Crowell & Moring, as well as leading practitioners in advocacy and public policy. She has also provided presentation skills training for NASA engineers, recording industry executives, and healthcare professionals.
Professor Cloud is a former performing artist, and earned a B.F.A in Theatre Performance from Miami University before graduating cum laude from The Catholic University of America Columbus School of Law. In law school, she was an active member of the National Trial Team, and was a finalist in the 2011 Costello National Criminal Law Trial Advocacy Competition. She was also selected to be the Student Commencement Speaker for the class of 2012. Upon graduation, Professor Cloud served as a Constitutional Law Fellow at the Institute for Justice. She represents clients in both criminal and civil litigation, and is a member of the Maryland Bar.